Exclusive Herno factory tour with CEO Claudio Marenzi
Herno CEO Claudio Marenzi shows us where the magic happens, and talks about the brand's transformation from raincoat maker to outerwear behemoth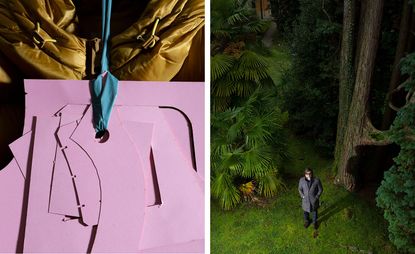 (Image credit: Mattia Greghi)
Milan has taken the art of the puffer to the next level. Understandably so, since it's only a short drive from the Alps, and on winter Fridays, city dwellers can be seen loading skis onto their car roof racks. Those bitterly cold months mean the Milanese know how to dress up their down, and if you spot someone looking especially neat in their winter warmers, there's a high chance they're kitted out in one of Herno's many bombers, gilets, windstoppers, capes, parkas, trenches, blazers or raincoats.
The Italian brand, which was set up in 1948 by Giuseppe Marenzi and Alessandra Diana, began as a manufacturer of raincoats, waterproofed using castor oil from the planes abandoned after the Second World War. Now it's a global behemoth, finding infinite new ways to create outerwear in every conceivable combination of nylon, wool and cashmere.
Still based a little under two hours by car from Milan, near Lake Maggiore (for Succession fans, its HQ provides the stunning setting for some of the final negotiation scenes of season three), Herno is presided over by Claudio Marenzi, the third son of Giuseppe and Alessandra. The CEO is a jolly, charismatic character who boasts an impressive mop of hair and wears reissued Enzo Ferrari glasses and bespoke suits. It lends him the kind of signature look favoured by fashion's elite, but unlike most catwalk front rowers, Marenzi clearly has a comical side. 'Some people say that I look like the English gentleman, the agent…' he says, searching for the name. 'James Bond?' I ask. 'No, Powers. Austin Powers!'
But Marenzi takes his business very seriously. Indeed, in 2016, he was made a Cavaliere del Lavoro (literally 'Knight of Labour', an Italian order of merit), recognising his results in business, creation of jobs, and commitment to improving living and working conditions in Italy.
Herno employs around 100 designers, tailors, models and salespeople and made masks and gowns for Piedmont hospitals at the start of the pandemic. Beyond his own business, in the mid-2010s, Marenzi concurrently served as president of fashion industry bodies Sistema Moda Italia, Pitti Immagine and Confindustria Moda, going on global trade missions with prime ministers Matteo Renzi and Paolo Gentiloni to boost the growth of Italian fashion businesses.
Marenzi started working at Herno during his school summer holidays. 'I was 15, sewing, pressing, whatever. I lived in the company, so it entered my DNA.' During his philosophy studies at Milan's public university, La Statale, his father insisted he continue to work in the factory to balance out the over-thinking. He went into operations when he graduated in 1984. At the time, Herno was manufacturing coats for brands such as Armani, Prada, Louis Vuitton and Hermès, 'more keen on making product than being a brand', Marenzi recalls. As those houses started to move to cheaper factories or took things in-house in the early noughties, he proposed to his family a new business model that refocused on their own brand.
Herno took its current shape after 'complicated family issues', but it's not nearly as House of Gucci as it sounds. 'No murder!' insists Marenzi. 'My brothers didn't want to do it; for them it was too risky. But in the end, my father decided to give me the chance. I brought in a private equity fund and I took the company from the family in 2005. In 2012, we bought back the shares from the private equity fund, and little by little we started again. Now the brand and the company are healthier than ever.'
In 2010, Herno launched Laminar, a line of performance outerwear for urban environments. Then, in 2019, came Herno Globe, a range focusing on sustainable fashion. 'Sustainability is not just a certification or about communication. We have to change chemical materials and industrial procedures.' And when we speak in November 2021, Herno announced it had acquired the Italian active sport brand Montura, known for its technical mountain products.
'We have always been in the luxury casual segment with Herno, and for over a decade in fashion technology with Laminar: today, with Montura, we are entering the "active" segment.' Marenzi has been a keen mountaineer since the 1970s, so it's close to his heart. 'I must admit that passion is at the heart of this operation!'
The company and its categories are growing at a rapid rate. So what's the secret to his success at Herno? With a dash of self-deprecation, Marenzi says, 'Sometimes I say, to be an entrepreneur, you don't have to be too intelligent. In some ways, even a little bit stupid maybe. In the same way, when you go to the mountain and you have to go down powder, if you think too much, you won't go down, because you'll be thinking about the avalanche, and how if you fall, you'll break a leg. So sometimes you have to be a little bit stupid going down, and then you're OK. Sometimes you have to think, then at a certain point, you have to go.'  
INFORMATION
herno.com
A version of this article appears in the March 2022 Style Issue of Wallpaper*, subscribe today!
Receive our daily digest of inspiration, escapism and design stories from around the world direct to your inbox