Camping style: how to achieve chic at the highest peak
With brands including Bally, Stone Island, Herno and Snow Peak bringing utilitarian elegance to outerwear, getting into the great outdoors has never looked so good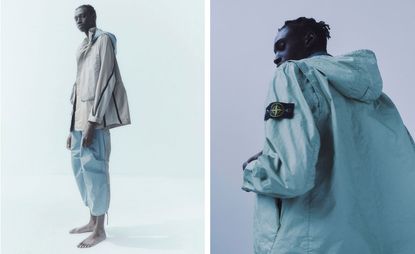 (Image credit: Umit Savaci)
Over the past 12 months, we've swaddled ourselves indoors in soft folds of fabric, but now, as we start to re-emerge into the outside world, many of us are still seeking clothing that provides ample protection. Luckily, a host of men's performance brands are ticking all our technical boxes, and carving out looks for peak camping style, with outerwear in innovative fabrications that will shield against the elements.

For a stylish take on safeguarding, we recommend layering up your protective pieces, from global collective Affix's jackets and Japanese label Snow Peak's vests to Italian brand Herno's parkas and Dutch label Byborre's tracksuit trousers. These designs are constructed from a variety of boundary-pushing fabrications, including Herno's ultra-light nylon and Snow Peak's Kanecaron, a fire-resistant fabrication. Byborre even blends materials of varying weights, which are mapped for ample comfort across the body, including its signature breathable knitted panels.

Bally has also launched its own take on the in-plein-air-look, nodding to its esteemed mountaineering heritage with the launch of Bally Hike, an offering of ourdoors essentials, featuring retro alpine wear including hiking boots, colourful hoodies and technical camping bags.
Camping style: the smartest bits of kit
For those that geek out on garment dyeing, Stone Island's triple layer, hooded jacket emphasises the label's innovations in colour. Elsewhere, for those that look for pieces that are more smarts than sports, US brand Woolrich has developed a technical cotton car coat for spring. Designed to cocoon you on the commute, its wind- and water-resistant qualities will protect you well, should you wander off route.
Peak camping style wouldn't be complete without some gizmos and gadgets to get other tent pitchers jealous. We recommend adding Rapha and Snow Peak's collaborative bikepacking accessories to your itinerary, which include a lightweight titanium spork and single walled mug, with a foldable handle. Serve your campfire fodder atop Maison Kitsuné x Helinox's baby blue foldable camping table, finished with Kitsuné's cute fox logo. Getting into the great outdoors has never looked so good.