Urban oasis: Hermès opens the doors to its new London store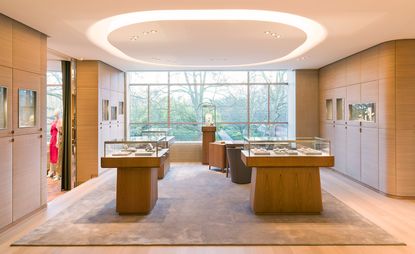 (Image credit: Photography: Andrew Meredith)
'We're here to celebrate a traumatic event,' said a deadpan Axel Dumas at the preview of Hermès' new London store earlier this week. 'For 30 years we've been on Sloane Square and we've moved 500ft, which for Hermès is a lot,' he added with a smile. Indeed, Hermès has pulled out all of the stops to create its new immaculately presented outpost on the corner of Cadogan Place and Sloane Street. Behind the strong geometry of the building's facade (originally designed by Michael Rosenhauer) the 400 sq m interior full of soft curves and warm metals entices customers inside.

Once again, Hermès teamed up with longstanding collaborators RDAI Architecture to realise the new store's interior, which occupies the ground and first floor, and houses every one of Hermès' 16 métiers. Led by its managing and artistic director Denis Montel, RDAI has created over 300 store designs for Hermés over the course of 40 years. While every Hermès store has the same essence, Montel ensures that each one has its own unique features and architectural elements.

The interior, which took just under a year to design and build, was presented to the studio as a blank canvas. Upon visiting it for the fist time, Montel says one thing was immediately clear: 'Here, the star of the shop is not the shop itself, it's the garden,' he says gesturing to the store's leafy view of Cadogan Square Gardens where a bright yellow mimosa tree is currently in full bloom.
In order to take full of advantage of the view, Montel and his team moved the existing staircase so that it faced the window and installed a glass lift that allows customers to fully admire the view as they ascend through the space. In addition, subtle metallic mesh curtains were placed across the store's large landscape windows in order to create a veil of privacy from the outside while not obscuring its unique view from within. At night, Montel notes, the mesh creates a beautiful warm glow onto the street outside.

Upon entering the store, customers are greeted by the Ex-Libris Hermès motif realised in the grey and gold mosaic flooring, while up above a double-height ceiling provides drama. Directly ahead are the silk and fashion accessories departments and to the left side, the equestrian collection is housed in an intimate space with rounded wood walls. Fragrances are tucked under the curve of the oak wood staircase, which leads guests upwards through the space with the aid of a handrail wrapped in Hermès Etoupe leather.

Upstairs, the men's and women's ready-to-wear, shoes, hats, jewellery and watches, gloves, belts and Maison and Art de Vivre collections are laid out across distinct but cohesive zones delineated by subtle changes in material and finish. 'We always use open rooms,' says Montel of his design formula. 'Each room always has two entrances and we always try to create some tiny differences between each one. This way you create a different feeling in each space.' For 1 Cadogan Place, this effect is achieved using a subtle palette of copper-coloured silk carpets, lacquers, warm-coloured metals wood and leather.

Opening today, the new London store will showcase a range of exclusive products including the re-issued London Bag in four limited-edition colourways. The bag, first created in 1962 features a clasp reminiscent of the epaulettes on the London Police Officers uniforms. In addition, a Yamaha Virago motorbike, which was covered in Hermès leather, is on display for the first time in the UK as an example of le sur-mesure services available at the store.
ADDRESS
1 Cadogan Place
London SW1X 9PX