'Gustav' pop-up fashion and art gallery, Belgium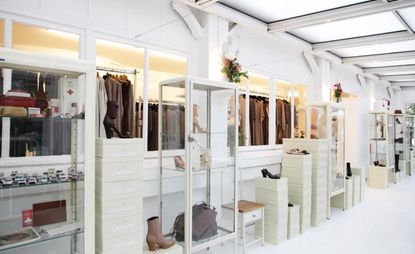 (Image credit: Ann Vallé)
Hot on the heels of its first guerrilla store, 'Aktion I', in Antwerp last winter, fashion label AF Vandevorst has teamed up with Hoet Bekaert Gallery to launch 'Gustav' - a pop-up home to fashion, art, vintage furniture and jewellery in the Belgian seaside resort of Knokke-Heist.
Within Gustav, AF Vandevorst (opens in new tab) is hosting 'Aktion II' - a temporary store of womenswear, shoes, accessories, lingerie and bags. Meanwhile, Caroline Van Hoek (opens in new tab) is selling a selection of art jewellery and Furniture Love (opens in new tab) is showing 20th century furniture by the likes of Jacques Seeuws and Norman Foster.
Hoet Bekaert Gallery (opens in new tab) has taken over the back of the house with works by a selection its artists, which include Amanda Ross-Ho, Caroline McCarthy and Hannes Vanseveren.
Visitors can ponder over their purchases while snacking on hampers in the garden, provided by Barista. The building itself is a former waffle house, known as 'Gustave Siska' and built in 1924, renowned for its heart-shaped 'Saskia' waffles. This is its last lease of life before it is demolished to make way for a hotel.
ADDRESS
Zoutelaan 229
8300 Knokke-Heist
Belgium