Fluid feat: Selfridges unveils its transformative contemporary Designer Studio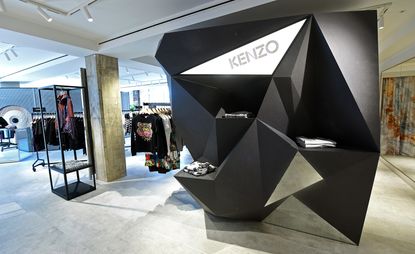 (Image credit: press)
As the boundaries between streetwear and designer fashion continue to blur on the runway, Selfridges' latest concept space addresses a consumer who wants to buy their cult-issue Vetements bomber alongside an original Champion tee.

The department store's new third floor Designer Studio (the latest launch from Selfridges' £300 million regeneration project), is a fluid space that follows in the footsteps of retail disruptors like Dover Street Market by allowing its designers to weight in on their fit-outs, which are themselves conceived to be transformative and adaptable to fashion's feverish pace.

'With the concept for the new Designer Studio, we have considered the flexible future of fashion,' explains buying director, Sebastian Manes of the space that is modeled after a contemporary art gallery. 'From rethought and unexpected brand adjacencies to a completely fluid retail configuration framed by architectural installations that create focus, through to the breakdown of gender-definition in the way we are approaching ready-to-wear – this is a progressive move forward in the way we buy, present and think about fashion.'

Selfridges enlisted Campaign to conceive the 17,200 sq ft gallery, christened the 'Theatre of Forces', which will be completed in October. The minimal, loft-like space is dominated by newly exposed columns, raw brickwork and concrete-effect tiling, while natural light has been reclaimed by opening up huge picture windows that overlook Oxford Street. Custom made display cases have been created using recycled plastics to showcase knitwear, accessories and an arty edit of Claire de Rouen tomes.

However, as Manes explains, the real rethink is evident in the Studio's unexpected brand adjacencies (think Craig Green, 3.1 Phillip Lim and Off/White rubbing shoulders) and a series of architectural 'follies' conceived by creative collaborators including Anna Lomax, Patternity and Gary Card, which punctuate the area.

Card's crash-landed meteorite installation currently houses a Kenzo concession, while other shop-in-shops include JW Anderson, Joseph, Christopher Kane and Vetements. The latter has worked with art director Patrick Waugh on a collaged backdrop that's still a work in progress, while in the fore, movable racks have been salvaged from Selfridges' back of house in line with the pragmatic spirit of the brand. In another corner Artisan have created an optical installation that's currently dedicated to pop culture sieve Moschino.

But in addition to these headline acts, the Studio's edit also includes a wealth of fresh faces (note Aalto, Le Kilt and new Berlin knitwear brand PLYS). In fact 29 out of the department's 67 brands are new, with many featured in its unisex T Shirt Shop, which has been curated in collaboration with Asian retailer i.t. This 'follie' has been designed by pattern specialist Patternity working with a converging yin and yang concept that houses over 150 tee and sweatshirt designs.

This youthful spirit has been extended to the Studio's change rooms where curtains featuring aerial landscapes provide jazzy 'selfie' backdrops – selfie sticks are, of course, on hand in each room. The Studio's soundtrack has also been customised by its designers, while the volume is pitched at a noticeably higher octane than in other parts of the store, adding to its energetic vibe.

Just as unbeatable is its location. Surrounded by the store's Denim, Contemporary and new Body Studio departments, the Designer Studio is similarly accessible via an escalator that pops up from the second floor East Gallery – land of Céline and Comme des Garçons – reinforcing the progressive way that Selfridges' fashion-savvy consumer is currently shopping.
A unisex T Shirt Shop has been curated in collaboration with Asian retailer i.t. This 'follie' has been designed by pattern specialist Patternity working with a converging monochromatic yin and yang concept, and housing over 150 tee and sweatshirt designs
Manes adds, 'From rethought and unexpected brand adjacencies to a completely fluid retail configuration framed by architectural installations that create focus, through to the breakdown of gender-definition in the way we are approaching ready-to-wear – this is a progressive move forward in the way we buy, present and think about fashion'
Surrounded by the store's Denim, Contemporary and new Body Studio departments, the Designer Studio is also accessible via an escalator that pops up from the East Gallery downstairs, reinforcing the progressive way that Selfridges' fashion-savvy consumer is currently shopping
INFORMATION
For more information, visit the Selfridge's website (opens in new tab)
ADDRESS
400 Oxford Street, Marylebone, London W1U
VIEW GOOGLE MAPS (opens in new tab)