Sportmax S/S 2020 Milan Fashion Week Women's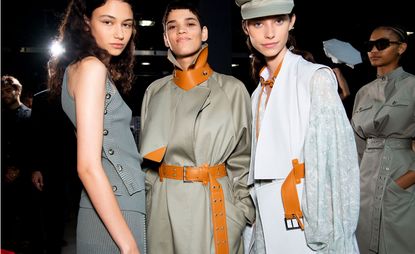 (Image credit: Jason Lloyd Evans)
Scene setting: Triangles of fabric suspended in the air, billowed in the breeze like ship's sails down the stretch of a long runway. Earlier this week, Emporio Armani was inspired by the lightness of the summer sky, and for spring, Sportmax looked to the 'Air Fountains' of New York kinetic sculpture artist Daniel Wurtzel, whose installations feature shimmering fabrics, which twist and turn through the air. As the show began, Sportmax's flying fabrics began to rise and fall, like the steady intake of breath, or the fluid movement of a boat through the sea.

Mood board: Wurtzel's experimentations in lightness of form filtered into a collection of relaxed, fluid and draped shapes in caramels, cornflower and slate, and a sea foam of blues. Flowing kaftans and bias cut dresses in silk and georgette, wisp around the body like a ship's sail, accentuated with chain and ruching. Short suits – a S/S 2020 Milan staple – had an executive nonchalance, shirt dresses were deconstructed with ribbon ties and splashed with panels of romantic florals and shirting featured oversized pockets, for utilitarian élan.

Finishing touches: Transparency and lightness was offset with leather detailing imagined in buttery caramel leather. Graphic leather collars and cuffs were overlaid on gauzy dresses, and had nautical eyelet details, trenchcoats boasted unbuckled belts and the laces of chunky sandals twisted around the leg.