Sportmax S/S 2019 Milan Fashion Week Women's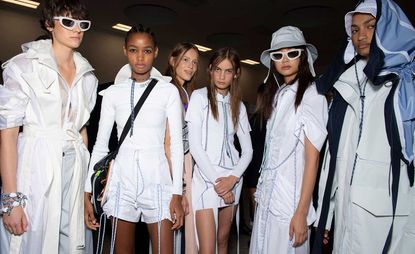 (Image credit: Jason Lloyd-Evans)
Mood board: Sportmax's S/S 2019 collection had a surfs-up appeal, as the idiosyncratic athletic label presented a water sports inspired spring offering, advocating fitness, contemplation and getting back to nature – all the elements that today's modern mind and body requires. This was a collection for the executive woman, who, whether she's living in Hawaii or Biarritz, folds up her suit after her 9-to-5 and heads to the beach. Part boardroom part surf shack, Sportmax dove into the waves with board-short silhouette suiting, pencil skirts paired with bikinis and sequinned surf tops and blazers. There were wet suit style evening dresses, feather light raincoats and ruched toggle detail dresses and pinstripe sleeveless waistcoats paired with wet look leggings. Cool surfer chic… all you need now is your surfboard and a sense of adventure.
Finishing touches: Shell-inspired jewellery has been a staple for summer, and no look is complete without a string of cowrie shells tied around the ankle or a gold dipped scallop shell hanging from the ear. This was a trend that Sportmax tapped into for next summer too. Post surf, the Sportsmax woman is sure to make a necklace or too from shells she finds on the beach. There were stilettos with shell detail ankle straps, and shells hung around the neck or from the ear. These pieces were paired with nylon bucket hats and sporty shades, with models strolling carefree beach-style down the catwalk, their flip flops or heels in hand.
Best in show: The abstract marble prints in the collection had an inky, underwater appeal. Elsewhere, a slouchy tailored suit paired with a wetsuit-style top bought a sporty sophisticated to modern office dressing.