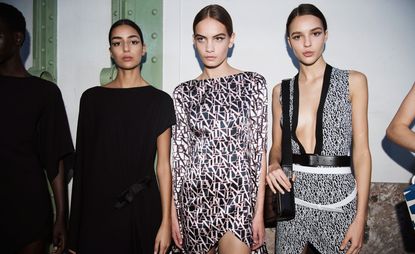 (Image credit: Jason Lloyd-Evans)
Mood board: The transition from Bouchra Jarrar to Olivier Lapidus as art director of the famed French maison was made in July, which means the French designer has barely had two months to turn in his first collection for the maison. That's virtually no time, even by today's frenzied fashion standards. Still Lapidus managed to whip a collection together, one that had more than a wink to the nineties – the elevated catwalk, the basic black dresse, often with asymetrical cuts, the newfound logomania – giving it a genuinely Parisian twist during the show through a soundtrack full of Arletty and Barbara songs. It will be intriguing to see where Lapidus takes the brand in the future. Time will tell.

Scene setting: A minimal black and white catwalk was set up in the Grand Palais' Salon d'Honneur, with a set of lights illuminating each model from up high. One thing was noteworthy: in the aftermath of the casting scandals which last season splashed over more than one brand, the model selection in yesterday's show was one of the most diverse we have yet seen in Paris: white models' presence was sparing, most of them being Asian (will most of Lapidus' Lanvin clients be Asian? That's an interesting question). Interesting trivia, the show also marked the return of Sasha Pivovarova to the runway.

Finishing touches: Not only has the house's pret-à-porter has taken a surprising new direction; so have the accessories. Prominently featured were Lanvin's new bags, logoed to the max and very on-trend; even if the logo, sometimes spelled in studs, was not immediately recognisable. It will be interesting to see the development of the accessories in the next few seasons – for a house like Lanvin, they could have an enormous potential.