Chanel S/S 2018
Karl Lagerfeld makes a splash at the Grand Palais on the final day of Paris Fashion Week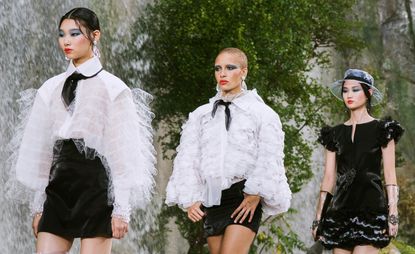 (Image credit: Jason Lloyd-Evans)
Wallpaper* Newsletter
Receive our daily digest of inspiration, escapism and design stories from around the world direct to your inbox
Thank you for signing up to Wallpaper. You will receive a verification email shortly.
There was a problem. Please refresh the page and try again.
Scene setting: 'Saving the best for last' is an apt expression for Paris Fashion Week, at least when it comes to show settings. Over the last few years, the legendary French maison has become just as known (if not more) for its otherworldly show scenographies as it is for its quilted 2.55 bags or its petites robes noires. As a matter of fact, the brand has spoiled us so much that guests hardly batted an eyelash upon witnessing a life-size waterfall – complete with stones, moss and all – in the middle of the Grand Palais. It was something between an Amazonian forest landscape and Peter Pan's Neverland. The catwalk was a zigzagging, wooden bridge, elevated over a pool of water (disclaimer: no influencers fell in the pool while taking selfies). Looked at from the fresh point of view of a fashion newcomer and not from the blasé, exhausted eyes of regular showgoers, it certainly was a once in a lifetime experience.

Mood board: As usual, it was Michel Gaubert's music which fully set the mood. What mimicked an existing waterfall in the south of France immediately turned into a fairy tale land as his soundtrack – a mixture of singing birds, singing mermaids and Bjork's otherworldly Venus as a Boy – got the show started. Turquoise shredded tweed miniskirts, bermudas and culottes were systematically accessorized with Barbarella-esque clear thigh-high boots as well as plastic quilted bags. It was classic Chanel with its characteristic 2017 twist. The French maison has a very particular approach to the way it builds itself up to appeal to a millenial (even to a Gen Z) client without alienating a preexisting older audience. So far, the recipe seems to be working: mixing genuinely grown-up looks such as tweed skirt suits, pareo chiffon dresses or bourgeois to-the-knee skirts that will be seen in elderly Upper East Side ladies with gimmicky elements such as toy-inspired accessories, glittery bags or plastic capes best meant for the Instagram landscape seems a simple enough idea, but it takes Chanel to execute it well.

Best in show: Those clear, low-heeled boots! Actually, all things plastic in the show made a splash, including the Coco Chanel-inspired rain hats and the capes, sometimes embroidered and ruffled almost like couture pieces. Not very sustainable? Absolutely true. But for those who don't go for PVC, there still was plenty to choose from. Like the party dresses in sorbet tones of tangerine, lemon and raspberry or a few simpler looks composed of black satin miniskirts associated to white blouses embellished with lace ruffles so delicate they almost looked like a halo. And if accessories are always a big part of the Chanel show, it is for a reason: we've got a distinct feeling that those oversize plastic quilted bags will be a hit next summer, both editorially and commercially.
Receive our daily digest of inspiration, escapism and design stories from around the world direct to your inbox