Chanel S/S 2017
Karl Lagerfeld was in a funky mood, sending hip-hip looks down a digitised fantasy runway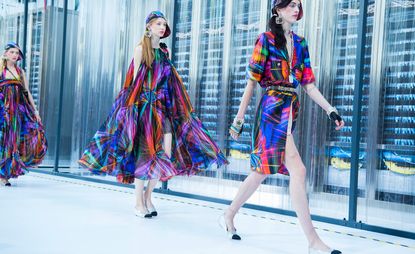 (Image credit: Jason Lloyd-Evans)
Scene setting: Paris' Grand Palais was once again the scene for Chanel's wide-scale fashion show. And although a bit less over the top than years past (i.e. no live airport or supermarket recreations), Lagerfeld did fill the space with 'The Chanel Data Center' – a series of huge rows of twisted coloured wires, switches and LED light boxes that gave the impression of being inside a giant computer.

Mood board: The data system got clearly downloaded off the outsized props and onto the clothes, where Lagerfeld amped-up his usual pastel-tinged confections with the sizzling energy of high-kick colour. The best looks in this techno-tinged show took Chanel's traditional tweed and reworked them in new boxy swing jackets or Caban coat silhouettes and pumped them up with a fluorescent red, orange or pink trim.

Finishing touches: Lagerfeld veered on the delicate edge of throwing on everything but the proverbial kitchen sink on his fully-loaded looks. The models were one half hip-hop posse girls with their tweed hats worn backwards or to the side, and their ropes of pearls and enormous medallion necklaces worn with rapper chains. The other half was a pure lady, wearing sparkling rhinestone pins, bracelets and the new low-blocked shoe boot.
INFORMATION
Photography: Jason Lloyd-Evans