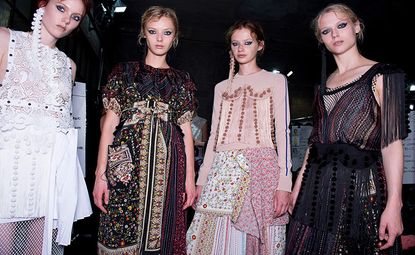 (Image credit: Jason Lloyd-Evans)
Mood board: It's a patchwork paradise next spring at No° 21 with scattered calico patterns collaged together with layers of fishnet and sequined draping. These all hung at various lengths, much like a collection of beautiful dish towels handing from a clothesline.

Best in show: The show opened in a fabulous white sequence where layers of fishnets, plissé, lace, and pompoms were cut in long flapper-like, drop-waisted silhouettes. Other stunners included more even-cut sequined cocktail dresses encased in shrouds of tulle that let their bright lights nonetheless shine through, and a series of black lace dresses poufed and pulled in all sorts of new directions.

Finishing touches: Dell'Acqua is the best shoe man in town. This season he hiked his girls' string bean legs up onto mammoth sandwich platforms bedazzled with ribbons, hiking ties and pearl studs.
INFORMATION
Photography: Jason Lloyd-Evans