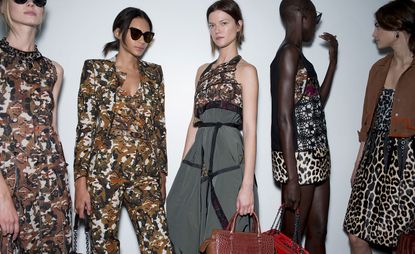 (Image credit: Jason Lloyd-Evans)
Mood board: Tomas Maier continued his exploration of the sporty, outdoorsy side of Bottega Veneta's exquisite craftsmanship in a collection that brought 1980s inspired jogging suits and techno leggings together with elegant billowing gowns whose asymmetrical panels were tied together with sailing rope straps.

Best in show: Apart from the snug knitwear, which was an exceptional mélange of colours and patterns, what also worked beautifully in this collection was the net and thread embroidery appliqués that covered sleeveless knee length dresses and the leopard printed pony skin skirts with leather triangle strips intarsia'd into the waistbands.

Finishing touches: Bottega Veneta may be known for its handbags, but this season the real news was in the shoes where Maier showed an endless array of creative options. Gorgeous-looking flat sandals had large piercings trimmed in colourful thread in their leather T-shaped or crisscross straps, while pony skin leopard print clogs were propped up onto big platform bases and shot with rivet-like holes.

INFORMATION
Photography: Jason Lloyd-Evans