Dolce & Gabbana A/W 2019 Milan Fashion Week Women's
As described by the show's maestro, the Dolce and Gabbana A/W 2019 collection was 'sensual and romantic', 'erotic and tragic'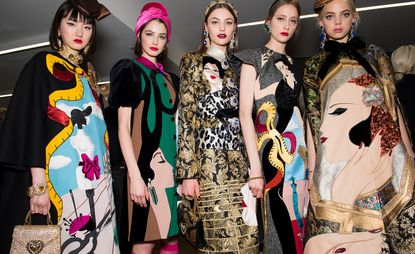 (Image credit: Jason Lloyd-Evans)
Scene setting: Red velvet tiered seating lined Dolce & Gabbana's Metropol, a fitting setup for the former 1940s cinema. At the head of the catwalk, matching curtains concealed the stage, parting to reveal a huge cinema screen. A film titled Eleganza was showcased at the start of the show, focusing on the design process inside the brand's atelier, highlighting its sketching, toiling and conception process. The film was a symbol of the brand's refocus on core fashion values, and its movement away from Instagram starlet-focused fashion shows and Influencer-heavy front rows. When the show began, music was usurped in favour of an on stage MC, who described how each of the 130 looks on the runway related to Dolce & Gabbana's 34-year heritage.

Mood board: The extensive collection offered an A-Z of Dolce and Gabbana's aesthetic. A 'masterclass in suiting' was followed by an expression of 'true divas' featuring sugary nightwear-inspired gowns, the tones of Sicilian pastries, including 'the ochre of marzipan'. Guests were also educated in 'Leopard print and innate elegance', 'flowers, flowers and more flowers', and 'Sicilian black', the most alluring signature of all of the brand's tropes, described by the show's maestro as 'sensual and romantic', 'erotic and tragic,' because 'black is the beginning and end of everything'.

Best in show: The androgynous tailoring which opened the show was particularly on point for today, and featured tuxedos, dinner jackets, double-breasted blazers and elegant black and white overcoats thrown over the shoulder.