Halpern A/W 2019 London Fashion Week Women's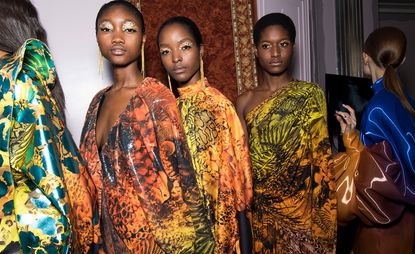 (Image credit: Jason Lloyd-Evans)
Mood board: When Michael Halpern debuted his sequined, Studio 54-centric CSM MA collection in 2016, his disco ball aesthetic gained him immediate renown. A stint in the Versace Couture Atelier followed, and given Halpern's commercial and critical success, it's hard to believe he's only presented three collections on the London Fashion Week schedule. For A/W 2019, the designer looked back to the decadent 1920s interwar period, and the work of French-Russian artist Erté, who worked for couturier Paul Poiret and designed over 100 covers for Harper's Bazaar. Inspired by the artist's draped and opulent silhouettes, he created pieces with exaggerated volumes, and cascading sleeves: sequined column gowns in graphic pinks, scarlet duchess satin opera coats, metallic ruffled bustiers and asymmetric dresses in sunset shade floral prints.

Scene setting: Halpern has opted for both stripped back industrial venues and opulent theatre locations to convey his dramatic yet downtown aesthetic. For A/W 2019, he chose the 1927-built art deco ballroom of the Sheraton Grand Hotel on Park Lane – a serendipitous setting to showcase his collection. Stools in floral velvet populated the chandelier and balcony-lined space, and on the catwalk, tropical leaves shot forth from ornamental wooden vases.

Best in show: Halpern's signature silhouettes are the flared disco pant and the micro mini dress. Cleverly, in terms of commerciality (and red carpet dressing), this collection incorporated a variety of dress lengths. It also demonstrated new experimentations in fabrication. A gel organza mini dress in tropical degradé tones was standout.