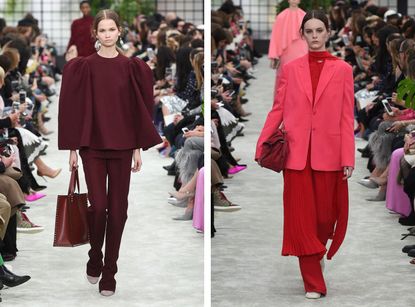 (Image credit: press)
Scene Setting: Our rendezvous for the latest Valentino show was not, as usual, at the Hôtel de Rothschild, the late 19-century palace not far from the Champs-Elysées. Instead, it was at the Hôtel des Invalides, the mammoth monument ordered by Louis XIV and, most famously, Napoleon Bonaparte's resting place. The show didn't take place in the main building, but in a small, contemporary building which was transformed into a conservatory, heated to a warm temperature and filled with plants – which was a sign of what was to come.

Sound bite: 'Romanticism', answered Pierpaolo Piccioli, when asked backstage what inspired his latest offering. 'It's a strength today if you are able to be assertive but not aggressive', he stated. It has also been notoriously scarce this season, one in which most designers have preferred to opt for a powerful, almost Helmut Newtonian version of feminine strength in the midst of the #MeToo movement. But one of Piccioli's strengths is his ability to follow his vision through, without feeling pressured by the transient trends. Which has allowed him to consistently distill and refine his vision for Valentino, through the seasons. Yesterday's show felt like the culmination of almost a decade of work, particularly now he is solo at the heml of the brand.

Mood board: For Piccioli, a strong femininity doesn't equal power shoulders and a cinched waist. Here, it was all about delicacy, the show starting with a series of monastic, two-tone looks including mini dresses worn over trousers and under suit jackets, and long dresses and knits featuring overblown viola tricolour motifs. Like a garden in bloom, colour turned up gradually, first as hints of powder pink and gold, then with shades of mint and leaf green, cerulean blue and raspberry, peaking with almost violent shades of crimson red in the shape of capes, ornate-free dresses and suits. Bjork's Bachelorette lent a sense of drama to the show, a perfect choice of music considering the uncompromising nature of the singer. After all, Piccioli's message is that there is no need to put women in a box, be it 'romantic', 'whimsical' or 'strong'. His vision of femininity encompasses everything. And this editor has yet to find a woman who doesn't agree with him.