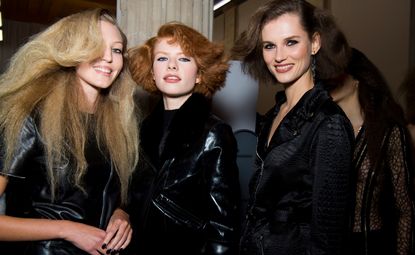 (Image credit: Jason Lloyd-Evans)
Scene Setting: It was, as usual, the Palais de Beaux-Arts in Paris' Rive Gauche — the home of Madame Rykiel for her whole life and career — that the latest Sonia Rykiel show was held. For the occasion, the sculpture-filled building was customised with neon versions of the multicolour horizontal stripes that were dear to the French designer, and a larger-than-life screen was positioned at the end of the catwalk. A sense of expectation loomed through the venue... not surprising, given that this season marked the 50th anniversary of the brand and, judging by the festivities held ten years ago for the 40th anniversary (a multitude of other designers, including Martin Margiela, reinterpreted and reworked the house's staples) there was no doubt about it, we were in for a treat.

Mood board: Sure enough, the show opened in true Sonia Rykiel style, with four brightly smiling models (a signature of Sonia's shows, who often stressed that her work was all directed toward the happiness of women) clad in chubby Mongolian coats and boots. It was all about the joyous spirit of the Rykiel years, with happy models, catchy music and even a special appearance by the newly reformed band Bananarama.

Best in show: Even if it the show was an homage to Madame Rykiel's heritage, the brand's designer Julie de Libran couldn't resist the temptation of inserting some of her own references through the years, taking inspiration from the post-punk and new-wave era, in the shape of leather miniskirts, perfectos and thigh-high, kitten heeled-boots which had a lovely whiff of French yé-yé years. It was complemented by plaid motifs, sequins and, of course, colourful stripes — and although a bit more colour would have been welcome — it was undoubtedly effective.