Y/ Project A/W 2017
Designer Glenn Martens excels with his distinctive and mixed-up aesthetic.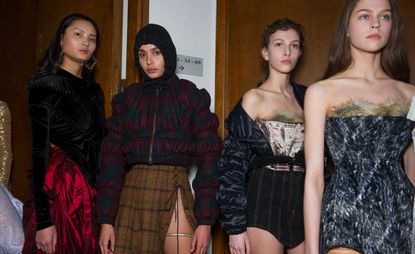 (Image credit: Jason Lloyd-Evans)
Moodboard: Bombastic. That's what the last show of the day was. Mind you, it takes imagination to excite the minds of tired fashion editors at 10pm after a whole day of shows. And yet Glenn Martens manages to do so effortlessly, every time. This season, his recipe included a diverse range of looks, with enough variety in each one to you make you feel like Alice falling down a street wear rabbit hole. An inspired cocktail, ranging from puffer jackets to corsets, tracksuits to denim, that worked wonders on the audience.

Best in show: Where to begin? A white sequinned hooded onesie. Embroidered jeans. An XXL faux fur coat. Translucent plastic. Thigh high boots. Oversized bombers. Taffeta trouser suits. It's not easy to get away with so much information all in one show, but somehow it all worked marvellously well. The Belgian designer's unique mix of streetwear and ultra precious influences (jogging pants in grosgrain? Check. Pussy bows in thick leather? Check) keeps getting more and more refined with each passing season.
Finishing touches: Spiralling pearl earrings graced many of the looks, adding a further baroque layer to the collection. In the same line, we were delighted to see again the 'Napoleon-Josephine' XXL scarves (that were prominently debuted during the menswear show a month ago) featuring intarsia portraits of the French Emperors... in a football scarf aesthetic.