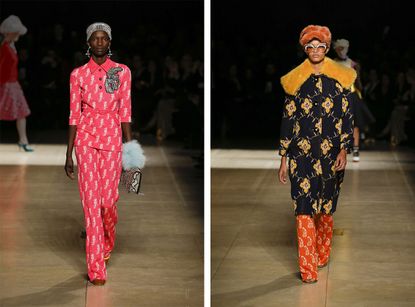 (Image credit: press)
Scene setting: For A/W 2017, Miuccia Prada covered the interior of the Palais d'Iéna with a fluffy layer of purple fake fur. This thicket of dense fur lined every visible surface, from the grand staircases and balustrades, to the walls and the double rows of seating, acting as an antidote to the grand architectural design of the space, which was built in 1937 by Auguste Perret. A row of huge mirrors lined the walls, and as the show began, they reverberated with the pounding sound of a televised French game show, mixed with De La Soul's Magic Number.

Mood board: Both the Miu Miu show invite and interior boasted a layer of purple fake fur, and this fabrication was integral to the A/W 2017 collection, which featured colourful coats and cartoonish hats in retro hues. The Miu Miu girl isn't one for minimalism, and for autumn she'll be favouring dresses with huge swishing paillettes, telephone or peacock prints and après ski striped nylon coats. Miu Miu's S/S 2010 collection featured a cute cat print, which prowled over dresses and shirts, and for A/W 2017, this feline friend was interpreted in a more geometric tile print, which featured on silk shirts and matching trousers.

Finishing touches: The collection featured a mix up of historical references, also reflected in Miu Miu's A/W 2017 accessories: from 1990s-style transparent sunglasses in bright orange (a style signature of the collection's hip-hop focused soundtrack), to 1920s-era diamanté headbands.