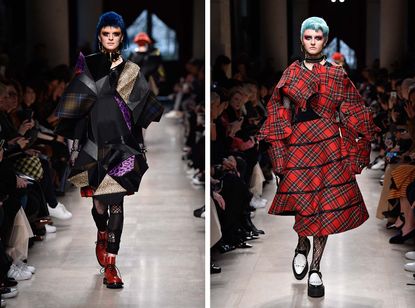 (Image credit: press)
Scene setting: Last year, Joe Corré, son of Vivienne Westwood and Sex Pistols manager Malcolm McLaren, burned £5m of his punk memorabilia. His mementos, from vinyls to buckled and distressed designs from his parents' SEX boutique on Kings Road, would no doubt have appealed to Junya Watanabe. His A/W 2017 collection was a celebration of all things punk, from tartan to leopard print, fishnets to Dr Martens, the cut-and-paste aesthetic of punk culture given his typically architectural twist. As audience members discussed the high volume of Watanabe's soundtracks (it was the first show of the morning), a soundtrack featuring T Rex's 20th Century Boy and Children of the Revolution blasted down the long catwalk at the Faculty of Pharmacy in Paris.

Best in show: It was a show that celebrated Watanabe's most noted designs – sculptural jackets resembling folding origami or patchwork circles, reworked leather jackets and deconstructed skirts. Watanabe has always been a fan of tartan, and this punk signature was cut and pasted in a variety of patterns, alongside leopard prints and rich upholstery fabrics. However avant-garde, Watanabe's collections always make use of classic and universally wearable silhouettes; a camel trench-coat featured distinctive patchwork sleeves, while a black tuxedo overcoat featured panels of plaid and leopard print. An impressive experiment in fabrication, a school uniform tartan dress featured tiny pleats that swirled concentrically from the middle of the body.

Finishing touches: In true punk from, models sported cropped mohawks and mullets in a variety of bright colours. They stomped the catwalk in dog collar chokers, fishnet tights and thick-soled creepers, some even theatrically throwing off their coats to the sea of watching photographers.