Comme des Garçons A/W 2017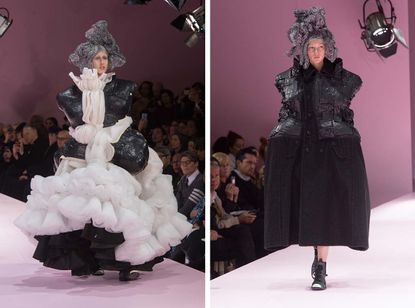 (Image credit: TBC)
Scene setting: The Comme des Garçons exhibition at the Metropolitan Museum of Art is less than two months away; its founder Rei Kawakubo the second living designer alongside Yves Saint Laurent to be honoured in its yearly fashion exhibition. With head curator Andrew Bolton seated at Comme des Garçons' A/W 2017 runway show, the profound impact of Kawakubo's career was even more palpable than usual, as two models entered the catwalk, walking at a slow and weaving pace, encased in armless and curving igloo-like forms, and metallic silver wigs resembling wire wool.

Moodboard: Kawakubo presented a series of masterful sculptural creations, imagined in fabrics both resembling the grey matter found in tumble dryers or bulbous silvery space suits. One look was imagined as an armless and oversized patterned dress, the back open to reveal what looked like a cream tailoring mannequin beneath, while another neutral cocooning shape with distorted sections of padding evoked the revolutionary lumpy silhouettes in Kawakubo's seminal 'Body Meets Dress, Dress Meets Body' S/S 1997 collection.

Best in show: Like the other models who moved in a dreamlike fashion, Anna Cleveland appeared in a giant black and white creation, comprising layers of undulating petticoats. Tottering onto the runway, Cleveland's mille-feuille wobbled as she walked, and she made a final twirl at the head of the runway as the show ended.