Marc Jacobs A/W 2017
The American designer channels the evolution of hip hop for his latest collection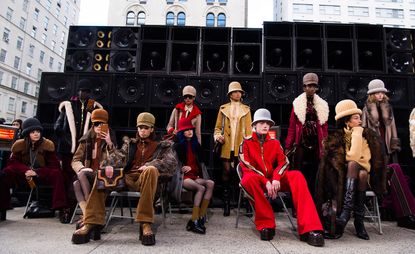 (Image credit: Jason Lloyd-Evans)
Mood board: The 2016 Netflix documentary Hip-Hop Evolution inspired Marc Jacobs' most recent collection, which paid homage to the cultural phenomenon started some four decades ago. The era's street style clearly informed Jacobs, who reinterpreted hip hop's key fashion trends — like the shearling coats, Kangol hats and tracksuits.

Scene setting: Jacobs wanted the select guests who attended the show to concentrate on the clothes; there was no booming soundtrack or elaborate set, and just one long runway lined with a row of folding chairs on each side. Once the models reached the end of the catwalk, they walked down the venue's entrance and outside, where they posed presentation-style in front of a wall of speakers — an obvious ode to hip hop music.

Finishing touches: Jacobs refined and elevated the Kangol Casual Bucket cap, giving it a more minimal silhouette, and using finer fabrics. There was also a clever take on the hip hop medallion in the form of a leather box purse — in an ideal size for a mobile phone — that hangs around the neck from a gold chain with gold hardwear on the front.