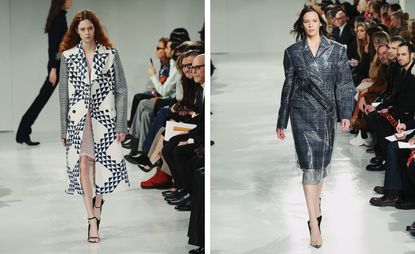 (Image credit: Calvin Klein)
Mood board: Calvin Klein's A/W 2017 collection was Americana seen through the eyes of Raf Simons (opens in new tab). For his first outing as Calvin Klein's creative chief officer, Simons paraded his version of the very fabrics — literally and figuratively — that make up the United States: handcrafted Amish quilts, protective plastic coating, and denim that referenced everything from Wall Street power broker suiting to the classic cowboy uniform. Simons proved that he still has the magic touch; the men's and women's collections were innovative, wearable and well designed with Simons' and creative director Pieter Mulier's aesthetic sensibilities, all while maintaining the DNA of the Calvin Klein brand.

Scene setting: Simons tapped his longtime collaborator, the Los Angeles-based artist Sterling Ruby to conceive the set of his first Calvin Klein (opens in new tab) runway show, which was located at the label's headquarters in New York's Garment District. Flag, a bleached and dyed canvas artwork by Ruby is one of the artworks featured in the brand's new campaign, and for the show the artist got free reign. Ruby dangled his signature flourishes — stuffed vertical forms covered with abstract prints, fringe streamers, and silver buckets, with the addition of fabric covered with Calvin Klein's new logo, designed by Simons and art director and graphic designer Peter Saville, from the ground floor's ceiling.

Best in show: A gold fur coat covered with a protective layer of plastic and tied at the waist with a rope belt was one of the show stealers. A skirt composed of an American flag was draped around the waist and teamed with a knee-length coat, with a black and white abstract print that resembled Ruby's work. Parkas camed lined with logo cabin design patchwork quilts.