Christopher Kane A/W 2017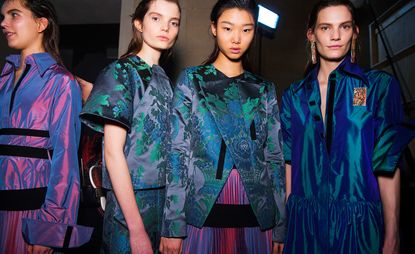 (Image credit: Jason Lloyd-Evans)
Mood board: Christopher Kane paid tribute to the working woman this season, delivering punchy, industrial looks that displayed a tough femininity. 'She's the kind of girl who likes sharp lines and the ease of Velcro,' explained the Scottish designer after the show. 'I had this idea of a female factory worker in my mind,' he added. In typical fashion, Kane filtered this narrative through a stream of influences – from the otherworldly art of the late Ionel Talpazan to the subversion of technology. 'There are many lotions and potions in this mix,' he said of the line, which showcased oil-slick effect knits, holographic corsages, mink-lined Crocs and abstract dresses that sprouted tulle in an awkward but elegant manner.

Sound bite: 'There are always variations to our work every season,' mused Kane. 'It's never one thing because I get really bored. I mean, I've always been a fan of outsiders, and that's why the street artist Ionel Talpazan felt so right at this moment. But I suppose that luxury doesn't have to be about a beautiful gown or dress, for me – it's something different, it's not normal.'

Finishing touch: A pair of pointed strappy sandals contained padded foam panels, as though they'd been freshly plucked from their shoebox. 'It's something you've seen so many times before, but has never actually been a functional thing – until now,' concluded Kane.