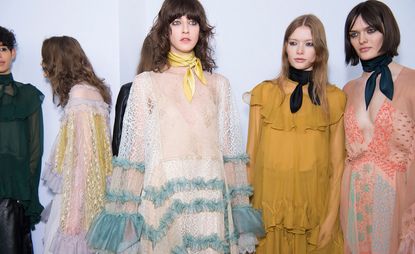 (Image credit: Jason Lloyd-Evans)
Mood board: Clare Waight-Keller's autumn Chloé girl was part bohemian nomad, part easy rider, and certainly destined for Baja via the open road of the California Peninsula highway. Motorcycle leathers (biker jackets, culottes, dungarees and even a boiler suit), knitted poncho dresses, tufted blanket capes and a late Eighties soundtrack courtesy of Prince, embodied her laissez-faire spirit that was inspired by writer/rider Anne-France Dautheville who rode across the Middle East and Africa in the Seventies.

Best in show: Waight-Keller's wanderlust vision incorporated many a handcrafted finish from her far-flung travels. Ruffled silk dresses were finished with inkblot prints, tapestry tassels added texture to parachute silks, while sheer georgette blouses were delicately shirred. Shearling was also well represented in windbreaker-style tops fit for the back of a bike, while a shaggy, hand knotted coat completed the wardrobe of this great escape.

Finishing touches: Rather than bandanas, silk scarves were tied around models' necks, just as each look was teamed with a variation on a zippered, Cuban heeled motocross boot – perfect for this girl-bike escapade. Talisman necklaces and a jumble of stacked rings were also along for the ride.
INFORMATION
Photography: Jason Lloyd-Evans