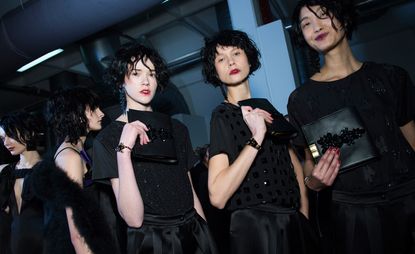 (Image credit: Jason Lloyd-Evans)
Mood board: Dark and gothy, the models' gleaming ivory skin contrasted with their messy ebony hair, but hot shots of blood red, electric blue and electric grape kept the mood upbeat at Emporio Armani. Oversized volume on printed satin pants and oversized mohair dresses cut like capes was the big news for winter.

Best in show: Bright blood red, white and turquoise Ikat prints served up a fresh, crisp sizzle in the middle of this show and fortuitously turned up later on graphic velvet suiting.

Finishing touches: Mr Armani loves an eccentric accessories touch. This season he played with eel skin covered flat practical footwear and shrunken hand-held structured bags, both of which came in eye-blinding shiny grape or cherry red.
Photography: Jason Lloyd-Evans