Several S/S 2017
Graeme Fidler closes LC:M with a working man's collection inspired by a photograph from Paul Graham's 'A1—The Great North Road' series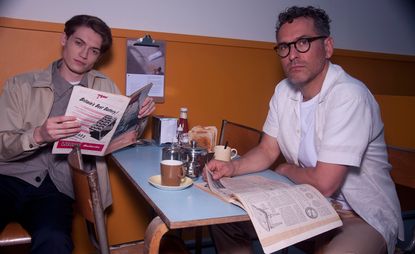 (Image credit: Jason Lloyd-Evans)
Sound bite: 'The story started with a photograph from Paul Graham's A1—The Great North Road (1983) series,' explains Several designer Graeme Fidler. 'Amazing pictures of fairly not amazing things,' he continues, 'mixed with my Grandad's journey coming down from the North to London in the 1950s. He spent most of his time in Soho in the coffee bar scene.'

Scene setting: To bring Fidler's polished up, Fifties working class staples to life, the designer set up his own postwar roadside café within London's Elms Lesters Painting Rooms – formica tables, Tommy K, builder's tea and buttered toast included. 'It could be 7am or 7pm,' he mused of the retro scene, serenaded by a live band. Fidler's mixed age casting took a load off in mixed separates that fused the energy of London's swinging jazz bars with the era's obsession with all things Americana. Striped Italian gabardine, seersuckers and ginghams met military cotton poplin and gauzy hop sack fabrications, which fashioned S/S 2017's key staples: short-sleeved cotton shirts, Harrington jackets, cuffed chinos and Milkman's coats in an umber palette.

Best in show: A tangerine rubberised cotton, canvas backed raincoat 'produced in a factory that continues to make every fisherman project in Canada', explained Fidler of the hard-working textile. While the coat's construction possessed a real-world practically, its hyper-hue echoed the collection's sunny, upbeat feel.
INFORMATION
Photography: Jason Lloyd-Evans