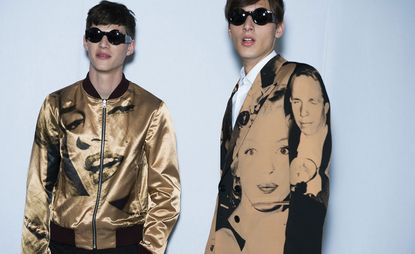 (Image credit: Jason Lloyd-Evans)
Scene setting: The Dries Van Noten show was set against the snarl of John Lydon singing 'Pretty Vacant', mixed with recorded samples of Marilyn Monroe from 'Gentlemen Prefer Blondes'. 'Don't you know that a man being rich is like a girl being pretty? You wouldn't marry a girl just because she's pretty, but my goodness, doesn't it help?' Monroe proclaimed. And then, out of nowhere, came a recording of Salvador Dali introducing himself. A comment on vacuous celebrity, perhaps?

Mood board: Spring's silhouette was rather relaxed, with 1950s wide pants and high waists teamed with open-lapelled shirts. Lobsters appeared on jumpers, juxtaposed with images of Marilyn Monroe printed across silk shirts and luxurious dressing gowns. Leopard print surfaced on baggy shorts and jackets. 1950s Americana was indeed a central theme.

Best in show: A navy, wide-lapelled, double-breasted suit with baggy shorts cut in luxurious grey wool was a show standout. But peering past all the purposefully kitsch and Pop motifs, it was the elements of classic Dries tailoring applied to 1950s Americana that will appeal most to gentlemen fans.