Café culture: the fashion brands forking into the culinary world
A.P.C., Jacquemus and Maison Kitsuné are bringing a taste sensation to the café and restaurant world, from Paris to New York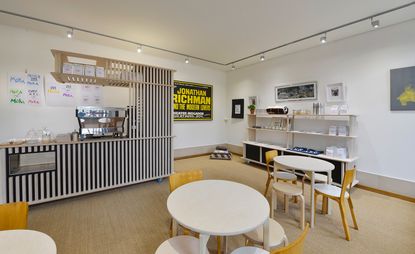 (Image credit: press)
Wallpaper* Newsletter
Receive our daily digest of inspiration, escapism and design stories from around the world direct to your inbox
Thank you for signing up to Wallpaper. You will receive a verification email shortly.
There was a problem. Please refresh the page and try again.
Store cafes have long been a key part of retail strategy for fashion houses who want to create all-encompassing lifestyle offerings. However, what began as a way to make a brand more accessible and encourage shoppers to stay in stores for longer has quickly become a stepping stone on the way to setting up more extensive hospitality operations.

This year has seen a number of luxury brands launching stand-alone cafés and restaurants that capitalise on the parallels between food and fashion. Both celebrated for their craft or artisanal element, cuisine and couture make the perfect pairing for consumers who care about provenance, quality of ingredients and exclusivity.
A.P.C. Café
Opening this week at Paris' Galerie Joyce and running until the end of January, A.P.C.'s debut cafe concept marks the launch of the brand's exclusive single origin coffee. The mocha class beans from Ethiopia, which took A.P.C. founder Jean Touitou over a year to source and select, are used to make all of the drinks on the menu.
'I don't like to have too many choices,' says Touitou - perhaps an unsurprising statement from a man who built his brand on practicality. 'Too often all of the options are bad and it's like a fake democracy. I prefer to offer one coffee made in the best conditions possible.'
In addition to coffee, customers at Café A.P.C. can purchase a tight edit of A.P.C. products and enjoy an exhibition curated by designer and A.P.C. collaborator Jessica Ogden that delves into the brand's archives. If the cafe concept is a success, Touitou says that A.P.C.'s coffee could eventually make an appearance at all 88 of its stores worldwide and that other fine foods produced by A.P.C. could follow including capers grown on a slice of land owned by Touitou on the Italian island of Pantelleria, and at a later date perhaps, a natural wine.

'At A.P.C. we are creating more and more interactions with other brands and creative people,' enthuses Touitou. 'We want to keep moving forward. We want to wake up in the morning and do something that genuinely excites us.'
Oursin by Jacquemus & Kaspia
With its lime coated white walls, rattan chairs and climbing vines, stepping into the newly-opened Oursin restaurant on the second floor of Galeries Lafayette Champs-Elysées in Paris is like being transported to a sun-drenched courtyard in the south of France.

Its Mediterranean scenery, designed entirely by Simon Porte Jacquemus, is a homage to the region of Provence where the French fashion designer was raised and that is the inspiration behind much of his work.
The restaurant, which opened its doors in a timely manner during September's Paris Fashion Week, is a collaboration between Jacquemus, Galeries Lafayette Champs-Elysées' creative director Clara Cornet, and the high-end gastronomy group Caviar Kaspia.
Chef Erica Archambault was tapped to design the eatery's mouthwatering menu which is made up of seafood dishes including sea urchin tarama, linguine with clams and Sicilian salsa, red mullet escabeche and mashed potatoes adorned with Baeri caviar and whipped cream.
Café Kitsuné New York
ith six cafes opened in as many years, and its own roastery in Okayama, Maison Kitsuné is leading the way when it comes to blending clothing and coffee.
'When we created Kitsuné, it was really about doing what we loved and what we were passionate about at that time, all day, every day,' explains Masaya Kuroki, who co-founded the brand alongside Gildas Loaëc in 2002 with the goal of creating a brand that fused a music label and a clothing brand. 'We took the time to learn and to grow our businesses organically.'
Now with coffee shops established in Paris, Tokyo, Seoul and Okayama, the brand is making its stateside debut with a cafe in New York.
Opened this month in the city's West Village, Café Kitsuné New York boasts a menu created by chef Yuji Tani that includes specialty coffee drinks, sweet and savoury treats, internationally-influenced small plates and natural wines selected by wine expert Billy Smith.
The interior, designed by Kuroki alongside long-time collaborator TBD Architecture Studio, is a blend of influences from France – rattan bistro chairs by Maison Drucker – and Japan – softly diffused lighting and white oak. Meanwhile the exposed brick walls are distinctly New York.
'For our three activities, Maison Kitsuné – the clothing brand, Kitsuné Musique – the music label, and Café Kitsuné – our hospitality branch, our goal is to go further, always,' concludes Kuroki.
INFORMATION
Receive our daily digest of inspiration, escapism and design stories from around the world direct to your inbox