Family ties: Violeta Sanchez and her daughter Luz pull together for a living sculpture show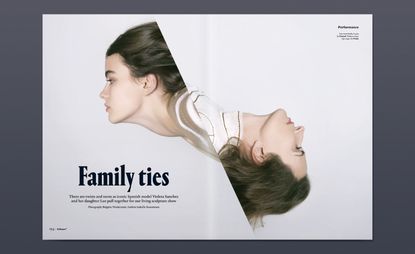 (Image credit: Brigitte Niedermair)
The term 'iconic' is a tag recycled by the fashion industry with great gusto and little thought. Handbags, shoes, skirts and coats are labeled as such but quickly forgotten, along with the women who are paid to wear them. So what makes a model an icon? Immortalised by Helmut Newton, adored by Yves Saint Laurent and cloned as a mannequin by Adel Rootstein (opens in new tab), the Spanish-born, Parisian-bred Violeta Sanchez is the genuine article and also the subject of our March Style Issue's (W* 192) 'Family Ties' story with her daughter Luz.

Sanchez first met Newton and Saint Laurent at the premiere of her first play Succès in 1979. Photographer and designer - both having established the Le Smoking style in 1966 - were immediately drawn to Sanchez, who was wearing a mannish three-piece suit ordered from a men's tailor. She went on to captivate Thierry Mugler, Jean-Paul Gaultier, the illustrator Tony Viramontes, contemporary artist Guy De Cointet and most recently Alber Elbaz.

After 30 years in the business, Sanchez opened Lanvin's 125th anniversary show and now stars alongside her 15-year old offspring in the label's spring/summer 2015 campaign (opens in new tab). For the March Style Issue they appear in a performative fashion shoot, lensed by Brigitte Niedermair (opens in new tab).

The organic, anamorphic nature of the pictures evokes the great tension between a mother and daughter. 'We are in that conflictive adolescent phase. Very irritating but highly formative for both of us…' says Sanchez whose other daughter Una is studying at the Sorbonne. 'I have been used to modeling with great input, photographically or in other ways. The experience here was challenging and rewarding. Brigitte, as I have often encountered with talented photographers, was relentless in her demands, which were often physically difficult.'
Of the challenging poses Niedermair explains, 'For me when we started talking, we thought it would be interesting to physically show a psychological problem between a mother and a daughter. The idea came from when you have a couple so close to each other; on one side you have a nice loving feeling, and other side you have problems. So we tried to show these problems in a funny way through abstract poses with the chairs. These tensions are between a mother and daughter but could be with tensions with anybody.' With the help of a third party contortionist to aid the story's composition and assist with plausible positions, the photographer adds, 'the challenge was to find interesting ways to be on a chair.'

Not that Sanchez is unfamiliar with performance art. Last year she collaborated with Musée Galliera's Olivier Saillard on the theatrical production Models Never Talk presented at New York Fashion Week. The costume curator invited seven models to re-enact their experiences of working with legendary designers. 'Today there is this overwhelming plethora of styles. If the models had to interpret that, it would be manic,' she reflects. Rather than icons, models have become blank canvases. 'For my generation 'brand' was not yet a concept per se, clothes were naturally and foremost, totally inhabited, incarnated and worn by a performer.' Just as they are here.
London based writer Dal Chodha is editor-in-chief of Archivist Addendum — a publishing project that explores the gap between fashion editorial and academe. He writes for various international titles and journals on fashion, art and culture and is a contributing editor at Wallpaper*. Chodha has been working in academic institutions for more than a decade and is Stage 1 Leader of the BA Fashion Communication and Promotion course at Central Saint Martins. In 2020 he published his first book SHOW NOTES, an original hybrid of journalism, poetry and provocation.