Falke's high end hosiery balances tradition and modernity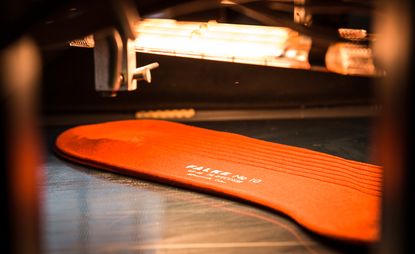 (Image credit: Falke)
A frenetic rumble resonates from the factory's main room: hundreds of needles are weaving threads in an automated pattern performing continuously in a mechanical loop. Here, about 120 sewing machines are working in unison every day to craft Falke's high end socks and hosiery. The 125-year-old, family-owned business – now in its fourth generation – has been operating since 1895 from the small town of Schmallenberg located in the North-West part of Germany, where most of its production is still based.

Surrounded by dense forests and snowy hills, the Falke headquarters and its 1,000 workers – a third of overall employees – is run by cousins Franz-Peter and Paul Falke. They were always destined to continue their fathers' legacy. 'Falke grows every year and it's our main mission to present it as a strong brand on the global market,' says Paul Falke. Since they took over the brand in 1990, the duo have focused on bringing innovation and international renown to the Falke name without forgetting its roots.

Balancing tradition and modernity, Falke has become one of the world's leading socks manufacturers. Working with specialists mastering complex knitting machines, as well as craftsmen hand finishing legwear in its six international factories, the brand makes sure every product is refined to its highest quality before hitting worldwide stores.
In the 1960s, the factory introduced a new generation of British Bentley Komet machines which are still used today to knit the Falke luxury line. Later came machines from the North of Italy: Lonati, Busi and Sunrise – more modern models that perform faster with safer and environmental-friendly technologies for the creation of high-performance socks.

The finest materials, such as Merino wool, camel silk, vicuna and fil d'Ecosse, are sourced all over the world while respecting the traditions of the place they originate from. Falke keeps up with the latest innovations too; it introduced 3D printing machines that are able to reproduce complex designs onto knitted fabrics. But these advancements wouldn't be possible without the help of ancient, long-lasting techniques creating a steady base for all future ideas.

For S/S20, the German brand is launching a mini hosiery revolution. Following make up trends that are returning to a natural warming glow and barely-there foundation, Falke's 6 denier, ultra-transparent tights come in one single colour adapted to every skin tone. Thanks to an innovative material blend – a new patent of the brand – the Natural Glow tights shroud the legs in a thin layer covering small imperfections, while staying completely invisible whichever the skin's colour.

Falke's innovative approach can also be found in its concern for the environment. Most of its clothing and accessories are Oeko-Tex certified, and in 1994, the brand received the German environmental protection award for its 'Clima Wool', an insulating material made of sheep's wool. 'Producing and acting sustainably should be inseparably linked to every brand,' explains Paul Falke.
'We are working every day on optimising our production and our products from a sustainable point of view too.'
While the brand stands for luxury hosiery which honours traditional crafts, it has embraced modern ideas especially when Falke's comes to its sports line. Providing high-tech products for athletes and amateurs alike, the ergonomic and sophisticated design of the label's socks provide active support from training to competition.

'We have always worked following this basic principle: how can we best meet the needs of our consumers,' says Paul Falke. 'The curiosity and lust to dive into different cultures, to perceive wishes and needs and translate them into specific offers is our permanent challenge and basis for original innovation and uniqueness.'
INFORMATION