Architecturally-aligned bag brands for raising up your wardrobe
The Wallpaper* edit of sculpturally sublime emerging bag brands – S. Joon, Osoi, Numen and Yuzefi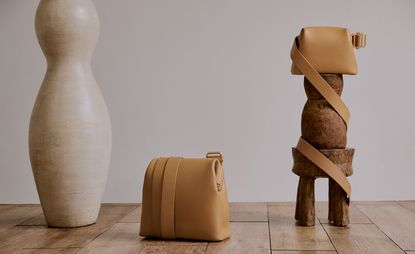 (Image credit: TBC)
Wallpaper* Newsletter
Receive our daily digest of inspiration, escapism and design stories from around the world direct to your inbox
Thank you for signing up to Wallpaper. You will receive a verification email shortly.
There was a problem. Please refresh the page and try again.
Focusing on folds, honing in on hardware and putting the spotlight on shape — these bag brands know exactly what we are currently craving. With an architecturally aligned design approach, these fashion accessories have an air of the unexpected.
S. Joon
Although UK-based S Joon founder Sahar Asvandi never intentionally aimed for unusual shapes, this is more often than not where she ends up. The bag brand's playful references to everyday objects have resulted in styles that aren't merely unconventional but innovative. 'The Tulip came to life because I had been gifted flowers for my engagement and they happened to be on my kitchen table as I was sketching', she says. 'I take inspiration from so many things — the arts, sculpture, architecture, people... My designs are often born from moments of playing around with forms or from real-life experiences.'

Sculptural shapes and elegant textures come together in Asvandi's contemporary and minimalist design approach, and this week, S Joon has launched on Net-a-porter. Bags such as the Lunar bag, the ultimate crossbody companion for a weekend brunch, or the Tear Drop, perfect to have around your wrist on a night out, are as classic as they are playful. Our personal favourite is pared-back Shopper, a reductionist blend of circular and rectangular forms, which will elevate any morning run for milk and the weekend papers.
Osoi
With an androgynous affinity, and an aspiration to create collections of contemporary classics, Osoi's multi-use designs manage to be both everlasting and of-the-moment. Named after the Japanese word for 'unhurried', the Korean brand takes the concept to heart and is committment to honing Asia's renowned affinity for craft.

With a background in architecture, creative director Heejin Kang has a love for structural shapes. 'Hardware is essential, and the design, quality, material and colour must be taken into consideration. It is one of the main aspects that could make or break a design' she says. Originally planning to launch with shoes, an unforeseen production delay led to the creation of the brand's signature style Brot, named after the German word for bread. The trademark model features a 'Kiss Lock Closure' – a hinged metal frame that contrasts against the bag's soft leather structure. Wear it over the shoulder, as a belt bag, or crossbody, the choice is yours.
Numen
The most classic out of our four brands is Numen, which defines itself as a label for grown-ups. Liberated from any trends and fashion fads, founder Nicola Cliemas draws on the clean lines of modernist architecture when she designs her bags. 'We are surrounded by architecture. How rooms, buildings and spaces are laid out contributes greatly to our well-being', she says. Therefore the architectonic approach covers the entire spectrum of production, from the choice of leather, the colours, down to each and every seam. A Numen bag needs to be just right.

A fascination for disparity is what ultimately led to Cliema's distinct design, combining a rounded bottom with a sharp-edged top. 'Furniture, especially armchairs, chairs or chaise lounges, which have fewer restrictions when it comes to form, excites me. I continuously try to slip those elements of contrasts into my designs', she says. We especially crave the half-moon shaped, duo-toned crossbody bag in cream and white, giving us that air of sophistication any grown-up woman wants.
Yuzefi
Delving into surrealist tropes, using visual trickery and tactile form, founder Naza Yousefi wants her bags to make you look, feel, and think. 'It was an uphill battle to get the initial prototypes right as they looked nothing like your classic handbags, and so I ended up doing the development under the supervision of an artisan,' she says. Working cleverly with proportions, Yousefi entices you to really examine the designs. The Edith bag, as an example, uses a trompe l'oeil effect – creating an inverted perspective which allows the shopper to see the whole bag at a single glance. 'I can be quite omnivorous in my search for newness; we look at a lot of references from vintage to interiors and art, then funnel those through a subtle surrealist lens to make the unexpected into something familiar', says Yousefi.

Working with new tactility, the hardware of the bags aides the neoteric shapes. The Loaf bag is a structured bowling style with a unique pull-out opening mechanism that allows for a new play with a seemingly classic shape. The Maude opens up with its own surprise; a magnetic frame with tactile intrigue; and the popular Dip style uses a collapsible magnetic opening. If clasps and closures are your Achilles heel, Yuzefi will definitely hit the spot.
INFORMATION
sjo.online
osoi.co.kr
numenbags.com
yuzefi.com
Receive our daily digest of inspiration, escapism and design stories from around the world direct to your inbox