Soft spot: Esra Bezek Dikencik's contemporary cashmere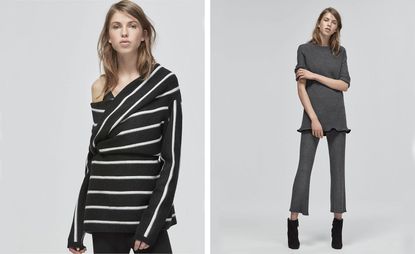 (Image credit: Cashmer in Love )
It was an assignment for the Fashion Marketing course at Parson's School of Design that spun Esra Bezek Dikencik onto her current trajectory of founder and designer of Cashmereinlove, a contemporary cashmere label based in Istanbul that is putting a fresh new spin on luxury knitwear.

'The project was for our marketing class, where we had to choose a raw material and research everything from customer demand to design elements and competitors,' she explains. 'After that project, I saw a niche and that there was a gap in the market for a modern, young, fashionable cashmere that departs from the classic styles offered by the heritage and big brands.'

Dikencik's path to designer took a detour via the world of advertising, where she worked for three years after completing a degree in communications for radio, television and cinema in Turkey. After Parson's, she worked for a year at a manufacturer that produced denim for the Zara Group of companies, all the while plotting her launch of her Cashmereinlove.

The collection was launched in 2007, and has been growing steadily in popularity in its home market, where the brand has a sleek flagship store in an upmarket neighbourhood of Caddesi, close to the shores of the Bosporus, and is now set to make a dent in wardrobes farther afield.

Her list of inspirations is lengthy, with architects and artists prominent: Tadao Ando, Le Corbusier and Frank Lloyd Wright; sculptors Constantin Brancusi, Max Ernst, Richard Serra, Alberto Giacometti and Henry Moore; artists Georgia O'Keeffe, Sol Lewitt, Egon Schiele and Daniel Arsham; and photographers Irving Penn, Louise Dahl Wolf and Jacques-Henri Lartigue.

The label's name, which may fall slightly short of cool to native English speakers, becomes permissible with Dikencik's infectious enthusiasm for cashmere. But she too wasn't immediately convinced of it when her sister suggested it. 'She called me at around 3am to tell me she'd found the name, "Cashmereinlove" because you're in love with your material and your work,' she explains. 'The truth is, at the beginning, I didn't like it; I wanted something cool, without any meaning; some letters coming together with a strong graphic image. But I couldn't find it and after a while we tested the [Cashmereinlove] name and everyone loved it.'

The collection stylishly compensates for any shortcomings of the name (which could possibly become CiL in the way that Made In Heaven became MiH). Inspired by juxtapositions found in nature, A/W 2016 highlights include a softly flared pair of ribbed crop trousers and a cropped roll-neck sweater featuring a graphic take on a traditional cable knit.

Dramatic velvet appears in the back of a long-line charcoal cardigan; the finest hint of Lurex comes in superfine stripes on a pale grey tee; and a long-sleeve below-knee black dress takes the offering into evening.

Dikencik's love for the luxury feel of cashmere is a deeply personal one: she has extremely sensitive skin and has suffered from eczema, and the softness of the yarn is a balm where even the finest of wools prickle.

So softness matters. She sources the raw materials from traditional cashmere goat hoods of Mongolia and China, where it is also spun into the fine yarn, overseen by Italian cashmere experts, then fashioned into garments by boutique manufacturers that use flat machines that still require rare human input in the knitting process, resulting in a softer finish. The garment-washing step uses high quality water, for the smoothest finish.
INFORMATION
For more information visit Cashmerinlove website