Anchors away: Chanel sets sail for Cruise 2019 show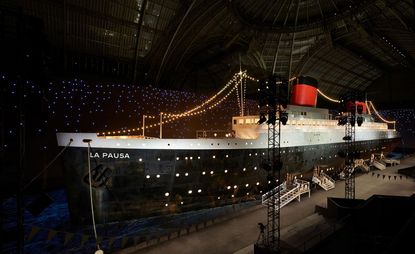 (Image credit: Chanel)
What better way to nod to the retail concept of a cruise collection – one which caters to sun-kissed sun lounging and tropical getaways – than by showcasing it aboard a cruise ship? It was anchors away at the Grand Palais in Paris yesterday, as Karl Lagerfeld erected a gargantuan streamliner to debut Chanel's Cruise 2019 collection, one brimming with Parisian holiday staples-like Breton stripe trousers, glittering berets, blazer dresses with steamship stamped buttons and porthole patterned skirts.

From Biarritz to Deauville, Coco Chanel had an affection for French seaside resort towns, but it was in Roquebrune-Cap-Martin, where she chose to build her famed French Riviera villa La Pausa in 1928. Steering the label's history, Lagerfeld named his two-decked liner 'La Pausa', one complete with a majestic sun deck and swimming pool, the fabrication of which took 4 weeks to create, and fifteen days to install.

Coco Chanel was also an avid seafarer. Last year, Chanel named its high jewellery collection Flying Cloud, after the 1930s superyacht owned by its founder's lover The Duke of Westminster. And while Karl Lagerfeld has staged his Cruise fashion shows in French seaside destinations including Antibes and St Tropez, it was notable that his steam liner docked in Paris, the home city of the maison, surrounded by 150m of catwalk, in a setting which totalled 5624 square metres. On 5 May, Chanel will also invite 500 students to step on board the ship, to view the bouclé, PVC and ruffled details of the maison's Cruise 2019 collection up close. All aboard!
INFORMATION
For more information, visit the Chanel website (opens in new tab)