Ben Gorham saddles up with Frame on a rodeo inspired collaboration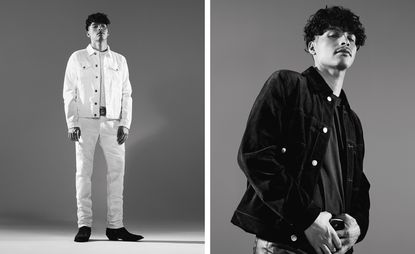 (Image credit: press)
We've always had a nose for Byredo's fragrances, the perfume house founded by the Swedish ex-basketball player Ben Gorham. Having celebrated its tenth anniversary in 2016, Byredo also launched a leather goods collection the previous year, and now Gorham has teamed up with denim label Frame on its first menswear collaboration.

'Although most know Ben for his work in the fragrance industry, as friends we have always admired his unique sense of style and his playful approach to masculine dressing,' explain Frame Denim founders Jens Grede and Erik Torstensson. In his fragrances, Gorham has nodded to a wide range of references, from tree houses to nurses working during the First World War (opens in new tab), and his first ready-to-wear collection is inspired by the evolving youth culture within rodeo and ranch life.

'My initial experiences of rodeo culture come from old Western movies,' Gorham explains. 'Denim for me was always tied to that idea of the American cowboy. When I was asked to do the capsule collection, I started my exploration of that idea.' The collection features Ford logo t-shirts, paisley-lined patchwork denim jackets and buckled waistcoats. 'It evolved to an interesting hybrid of western, street and sportswear culture that I was seeing younger generations wearing around the rodeo circuits,' he says.

'We loved the idea of creating a super-slick western style collection, capturing the rawness and masculinity behind the culture,' Grede and Torstensson add. 'The raw denim, aged leather and vintage t-shirts still embody Frame, but from a different perspective. The power of collaborating with friends enables us to experiment and explore a wider visual.' For Grede, Torstensson and Gorham, this is a partnership riding high.
INFORMATION
For more information, visit the Frame website (opens in new tab)