Meet Mami Wata, the surf brand harnessing West African folklore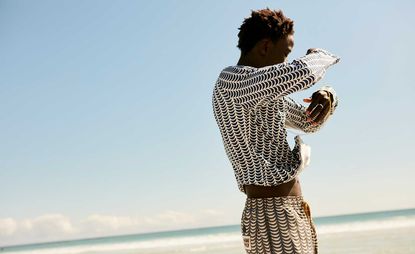 (Image credit: TBC)
West African folklore dictates that if Mami Wata, the beautiful and dangerous water deity protecting those who ply their trade on the oceans, takes you for her lover – without drowning first – you return to land better looking, and more successful. The ultimate origin story for a brand dedicated to the seductive power of African surf.

Founded by CEO Nick Dutton, creative director and artist Peet Pienaar, and writer Andy Davis – the enviably titled Chief Surf Officer, Mami Wata is the first surf label out of Africa that is proudly African. A lifestyle startup exploring the continent's complex craft history to distance local beach culture from its elitist image.

'We needed to create something for people from all cultural and racial backgrounds,' explains Pienaar. 'And it had to stand out. Other surf brands all looked the same.' They started by decoding African design, specifically the images and language used in the graphic textiles common to every region.
Traditional wax print and Vlisco fabrics have a deep-rooted relevance that extends as far as politics, yet come from Indonesia, Holland and lately China. It is the messaging layered onto them that defines their African-ness, so Mami Wata work with that.

'Say we make a boardshort inspired by a newly discovered wave in Angola. I'll research the colour and shapes of local designs, then jokes and sayings in the area, and evolve a unique print from there. Copying wholesale would just be cultural appropriation.'

Manufacturing on a small scale with ethical factories, and sustainable raw materials, in Africa, means Mami Wata can't compete on a technical level yet with the likes of Rip Curl. But it only forces them to improvise and innovate. 'People have surfed in quality, no-nonsense shorts since the 1950s,' says Davis. 'That's our thing, not chasing gimmicks.'

Meanwhile, their grass-roots support for local surfers, creative talent and organisations bringing surf therapy to at-risk young people – from South Africa to Liberia, contributes to writing an alternative story about this youthful continent destined to be a design focus of the future. Davis can sense it, 'this is where attention will shift.'

'The exciting truth is that there is so much happening here we want to share. Africa is naturally associated with human fears, but we don't want people thinking dangerous and scary; we want them to think love and enjoyment. Because those things are far more abundant here than fear.'
INFORMATION
For more information, visit the Mami Wata website
Receive our daily digest of inspiration, escapism and design stories from around the world direct to your inbox