Equal rights: a new tome celebrates AF Vandevorst's 20 year partnership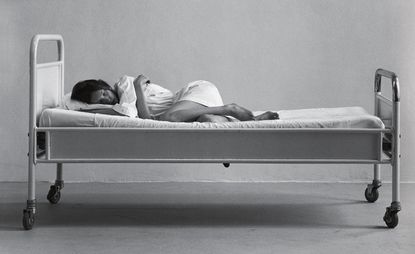 (Image credit: Ronald Stoops)
Question: When is running a fashion label a lot like a marriage? Answer: When you're Filip Arickx and An Vandevorst, the couple behind Belgian label AF Vandevorst. This year sees the duo celebrate 20 years of their label, as well as 30 years since they first met each other as students at Antwerp's Royal Academy. Festivities include a new book, 'Ende Neu', published by Hannibal, and featuring a hand-embroidered cover, accompanied by a one-off show tomorrow at Paris Haute Couture week revisiting each season with one key look, restyled for 2018.
The tome features iconic brand imagery, and texts from fashion critics Sarah Mower and Sally Singer.
'It came to our attention that since our very first show, we never looked back on our work,' the two designers explain of their retrospective celebration. '[So] we were much more surprised about all the souvenirs that were hanging in our archives than we could have imagined.'

Of course, for Arickx and Vandevorst, the book chronicles a very personal narrative, too. 'This was a story of two people who met each other on the first day of school, fell in love and decided to share their lives while creating beautiful tales to make people understand that creativity and beauty are very important and essential in life,' they say. 'So the process of reviewing was very confronting, as our stories are very much inspired by our daily experiences. It was an emotional journey. We went through our archives in the evenings and in the weekends. These moments were only for the two of us and we laughed and enjoyed all the precious moments we rediscovered.'

Part of the turn-of-the-millennium class of designers such as Hedi Slimane and Junya Watanabe, similarities can be seen in AF Vandevorst's singular commitment to their vision down the years. Arriving at the end of the 1990s, the duo offered a new version of independent fashion, outside of American sportswear and bland luxury labels. The book cycles through the brand's imagery and ephemera, and highlights their earliest, lasting inspirations: hospital beds, military uniforms, the work of Joseph Beuys.

One thing that is evident, amongst texts from fashion critics such as Sarah Mower and Sally Singer, as well as the brand's friends and collaborators, is that each AF Vandevorst collection is the work of an equal partnership, delineated by the couple's own personalities and their relationship. The pair consider this to be one of the label's defining hallmarks: 'Every creation is and will always be the result of an experience of two people that are each other's opposites, but [that] respects each other's vision and/or opinion. Every collection or piece has the duality of a male and female impression.' In today's world, with its complex questions of identity, such duality makes for an interesting proposition.
INFORMATION
'Ende Neu' is published by Hannibal. For more information, visit the AF Vandevorst website (opens in new tab) and the Hannibal website (opens in new tab)