Aeyde is the Berlin-based brand inspired by Bauhaus and 90s minimalism
As the minimally-minded footwear and jewellery label reveals a new visual identity, we talk to founder Luisa Dames about a fresh chapter for Aeyde, one rooted in her home city of Berlin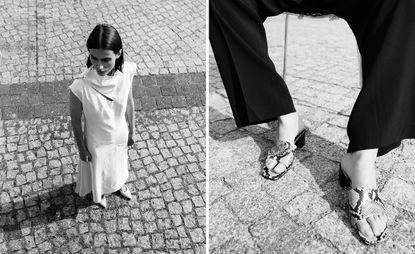 (Image credit: press)
Luisa Dames removes her earring and holds it towards the camera. 'Can you see it?' she says, directing her finger towards the gently flattened edge of a thick gold hoop, as if a piece of the metal has been sliced away. It is barely perceptible – from afar, it looks simply like a smooth circle – but it is these small details that animate the designer, who began Berlin-based footwear and jewellery label Aeyde in 2015. The observant shopper will find this 'cut' or 'kink', as Dames variously describes it, throughout her collections – a straight line cutting through the designer's otherwise fluid forms. 'It's very subtle, you don't always see it, but it gives a very calm, directional point of view.'
These descriptors feel apt to describe the wider Aeyde project, which last week entered a fresh era with the reveal of a newly designed brand identity and logo. Stylised previously as 'aeydē', the lower-case 'a' has been capitalised and the macron removed, for both directness and to honour the name's roots (Aeyde is derived from Edith, a 'powerful and traditional name which deserves a capital letter', as Dames explains). The font itself – which will be used for both the logo and across the brand's website – is a bold, clean-lined serif, altered from a German typeface circa the 1800s which was discovered in the library of Universität der Künste, Berlin's university of the arts. Dames said she chose it for its suggestion of 'Germanness' and altered it by squaring or 'cutting' the edges of each letter – another nod to the label's design signature.
Earlier this month, at Berlin's Kino International cinema – a landmark of GDR architecture, built in 1961 and now designated a UNESCO World Heritage site – this new identity was debuted with a short film titled 'Motus', with a gathering of friends of the label watching on. 'Our office is on the same street as the cinema, and I always walked past it thinking: one day, I'm going to do a film there,' says Dames of the Sylvie Weber-directed short which features contemporary dancer Mariana Torres and centres on movement. 'Sitting down in this beautiful cinema, watching the curtains open, it was very emotional. The film reflected how it has been over the last few years, sometimes calm, sometimes turbulent. We wanted to open up this moment to all of our friends in Berlin, the ones who have been there since the very beginning.'
2020 initially proved to be one of those turbulent times; at the beginning of the year, the brand was the largest it had ever been, as the pandemic hit, Dames admits she 'wasn't sure if Aeyde would survive'. Thankfully, she says, women were still shopping for shoes online – 'that was the category people still seemed to love, and bought' – and by the summer, the brand had weathered the storm. Not long later, a holiday allowed for a moment of contemplation: 'I was thinking, okay, the brand has come such a long way, and we've built something, but I felt like it needed rooting in the context of where we are from.' A big part of this was literal. 'When I was talking to, let's say, a retail partner, they would always ask me where the brand is from. Is it from Korea? Is it from Scandinavia?'
Dames is German, born in the countryside outside of Hanover, and the country of her birth has shaped her approach to design – one longtime inspiration is Bauhaus, and her footwear and jewellery are designed with a similar approach to the movement, whereby aesthetics are always followed by function ('when I think about form it shouldn't just be beautiful, there needs to be a functionality to it too,' she says, noting that often a design is discarded if it doesn't feel 'sharp and in focus'). This fastidious approach is met by what she calls the 'freedom' of Berlin, a city she moved to ten years ago and a place 'where it feels like you can breathe, and be creative'.
One influence in Aeyde's collections is the melding of different eras and styles – references span Modernist architecture, 90s minimalism, memories of her grandmother – which Dames says comes from the topography of Berlin, whereby the city's divide between east and west has created a city that has 'developed at completely different tempos'. 'The west was traditionally more elegant, more settled, whereas the east had been completely destroyed, so there was a clash there. And then in the 1990s, there were lots of musicians and artists that moved to the east. So it's always made for a melting pot of cultures and influences.'
This week she release Aeyde's latest collection, S/S 2022, which marks the first of this new era for the label. As such, Dames calls it 'new perspectives', taking Aeyde's core pieces and reimagining them in shape and fabrication ('we destroy old patterns and adjust the lens through which we see the world,' read the collection's notes). A minimal, streamlined feel remains, reminiscent of footwear from the early 1990s: strappy heeled sandals, slingback mules, flat nappa-leather Mary Janes, fastening with a slim strap and buckle (shoes are made in Italy, with leather which is the byproduct of the food industry). Colours are bolder than previous seasons, striking an optimistic note, from 'kiwi' green, raspberry and lavender to python print. The playful new 'Ellen' and 'Elias' hoop earrings come decorated with colourful raised 'bubbles'.
'We started creating it in 2021, and at that point felt like we really wanted a new awakening, something fresh and new after being at home. So this collection is very energetic, very colourful, very bright. At the moment our Instagram is all black and white, but this is going to give us lots of colour. It feels very positive.' As for how Dames hopes people wearing the collection will feel, she adds: 'they should feel empowered, that they can do anything they want and feel free.'
It allies with a clearer mindset for Dames, one in which she approaches challenges 'day by day', rather than thinking too far into the future – 'your plans change, right? So now I don't really make too many plans.' After the collection launches, she will take a pause, before working on what she calls the 'small, conceptual details' of the brand, from honing Aeyde's signatures to introducing new elements of craft. 'It's about calming down your ambitions, and taking things slow.'
INFORMATION
aeyde.com (opens in new tab)
Jack Moss is the Fashion Features Editor at Wallpaper*. Having previously held roles at 10, 10 Men and AnOther magazines, he joined the team in 2022. His work has a particular focus on the moments where fashion and style intersect with other creative disciplines – among them art and design – as well as championing a new generation of international talent and profiling the industry's leading figures and brands.