Hangover recovery kit for the post-holiday season
From liver-saving drops to vegan Berocca, our hangover recovery kit has everything you need to get back on an even keel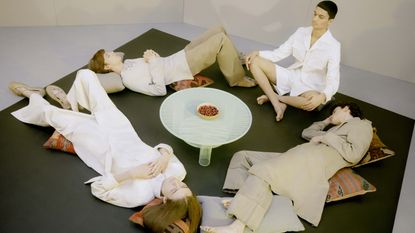 (Image credit: Romain Duquesne)
One of the best things about the holidays is the parties, and one of the worst things about the holidays is the parties. Whether you are experiencing a killer one-off hangover or are just feeling generally run down from the busy festive season, our hangover recovery kit is here to get you back in shape just in time for the next event.
HANGOVER RECOVERY KIT
111Skin x Aman face masks
Luxury hotel group Aman has partnered with 111Skin on the limited-edition Nourishing Gold Algae Mask and the Nourishing Gold Algae Eye Mask that are the ultimate in decadent relaxation.
The masks feature a potent blend of 111Skin's signature NAC Y2 complex (designed by brand founder and plastic surgeon Dr Yannis Alexandrides to protect the skin of astronauts) with Aman's marine ingredients, including Kalpariane, a brown algae found on the coasts of France, which creates deep hydration, skin protection and stimulates collagen, alongside MYFerm, fermented wakame seaweed sourced from Jeju Island, which is intended to inhibit wrinkle formulation, and spirulina, which calms the complexion and leaves skin glowing.
shop.aman.com (opens in new tab)
Add Vitamins
Did you know Berocca isn't vegan? If that fact turns your stomach even more than your hangover, switch out that traditional hangover cure for Add Vitamins' effervescent tablets. Not only are they vegan, but they are formulated with 14 different vitamins and minerals to enhance immunity and mental performance.
These include vitamin C,D and zinc to contribute to the function of a healthy immune system; B6 and B12 to support normal energy release and reduce fatigue; and pantothenic acid and magnesium to support normal brain function.
addvitamins.co.uk (opens in new tab)
Omorovicza bath oil and salts
Budapest-based brand Omorovicza has garnered a cult following by channelling the restorative properties of the city's famous thermal baths into skincare and body products and now, the brand has just debuted its new bath oil and salts.
The oil is formulated with the brand's 'Healing Concentrate', composed of minerals from the thermal waters, and essential oils of rosemary, sage, geranium and chamomile, to hydrate skin and relieve tension and toxins. While the Bath Salts blend Hungarian, Dead Sea, Epsom and Himalayan salts to detoxify and relieve aching muscles. Together, they bring a flavour of the ancient baths of the 'spa city' into your home.
omorovicza.com (opens in new tab)
Aromatherapy Associates shower oils
If you are not much of a bath person, Aromatherapy Associates has a a wide range of oils that are designed for baths and showers. The Inner Strength oil was developed by the brand's co-founder Geraldine Howard when she was undergoing cancer treatment, drawing on her extensive studies in aromatherapy to find the most powerful oils to deliver the comfort she needed.

Cardamom and frankincense are combined to help you recover from feeling run down, while clary sage offers clarity. It is great for moments of high stress when you feel you need to check out and reset, but also for less intense emotional periods when you feel tired and need a bit of an uplift.
aromatherapyassociates.com (opens in new tab)
Perfumer H candle
Whether recovering in the bath, your bed or on your couch, it is always good to have a luxury candle burning nearby to help create calm. The Honey candle from Perfumer H is a particular favourite of ours, with an intoxicating blend of wild herbs and flowers, with pine and cedar wood, and a hint of honey.
perfumerh.com (opens in new tab)
The Organic Pharmacy liver and kidney drops
The Liver and Kidney drops from The Organic Pharmacy blend a potent combination of herbs-including dandelion, milk thistle, astragalus, marshmallow, berberis, artichoke and schisandra to support the two most important organs for detoxification. Mix a few drops into water before going out and when you are back from a night out.
theorganicpharmacy.com (opens in new tab)
0
Beauty & Grooming Editor
Mary Cleary is the Beauty & Grooming Editor of Wallpaper*. Having been with the brand since 2017, she became an editor in February 2020 with the launch of the brand's new beauty & grooming channel. Her work seeks to offer a new perspective on beauty, focusing on the pioneering personalities, product designs, and transformative trends within the industry.