Wallpaper* editors select their favourite beauty products of the season
Wallpaper* editors on the beauty products they can't do without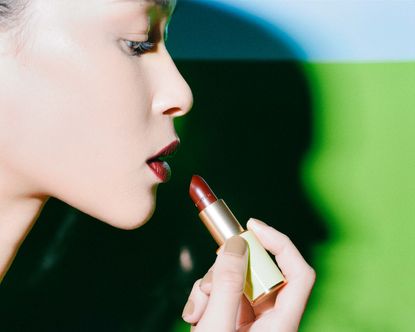 (Image credit: Matthieu Lavanchy )
Spring is a time of fresh starts – a new wardobe, a cleaner house, sunnier days – so what better time to update your beauty regime?

To help, we've asked Wallpaper* editors to share their favourite beauty products of the moment, from transformative skincare to CBD for improving sleep.
Wallpaper's beauty products of the season
---
Sarah Douglas, Editor-in-Chief
Crème de La Mer Lip balm
I am never without my Crème de La Mer Lip balm, and can't remember life without it!
It instantly softens my lips, effective on its own as well as a base under my Hermès lipstick – it even has a delicate mint aroma.
Available from selfridges.com
Jack Moss, Fashion Features Editor
Hæckels Lab skincare
I'm currently using the Hæckels Lab range – a cleansing milk, toner and EGF serum created using ingredients grown in the Margate-based brand's bioreactors and based on its 'Spiraglow' formulation, an algae that promotes a healthy microbiome (think of it as a probiotic for the face).

If it sounds complicated, it's anything but – using the range together has the same satisfying ease as the '3-step' routines I used as a teenager in the 2000s, though without the feeling of stripping the skin raw. It's noticeably changed my skin in just a couple of weeks – perfect for a spring refresh.
Available from haeckels.co.uk
Holly Hay, Photography Director
TRIP Orange Blossom & Chamomile CBD oil
A good night's sleep is the foundation of a beauty routine for me. I have periods of finding it very hard to fall asleep at night, however tired I am. I have been using Trip before I go to bed and although it doesn't officially help you drift off (though the placebo effect is working for me), it does allow you to get better quality sleep and your body and muscles become relaxed.
Available from boots.com
Tilly Macalister-Smith, Contributing Editor
Les Mains Hermès Nourishing Oil
I have always looked at other people's youthful, immaculate hands with some envy, as mine have been long neglected, but I have never found the resolve to do anything about it. Also, as a mum, your hands take on even more. Since having a baby, I have stripped out a lot of hidden chemicals in my beauty cupboard, including having not worn nail polish for around three years.

Thankfully, dabbing on Les Mains Hermès Nourishing Oil has become a little ritual, every time I sit down at my laptop. It hydrates my sorry cuticles and is made from entirely natural ingredients such as white mulberry extract and vitamin E. Its non-greasy formula means I type right away without getting it all over my keyboard, and having been designed by Pierre Hardy, its also very pretty to keep on my desk.
Available from selfridges.com
Melina Keays, Entertaining Director
Byredo make-up
I have chosen Byredo make-up as my selection for spring – which is always the time of year when I feel inspired to make fresh efforts and mark a new season with exciting colours. The quality and performance are excellent. I particularly like Byredo's eye colour and blush palettes with their tactile, beautiful gold cases; nothing finds a place in my carefully curated bag unless it is worthy since glamour in makeup is key.
Available from cultbeauty.com
Mary Cleary, Beauty & Grooming Editor
111Skin Reparative skincare
I'm very lucky that my job gives me the opportunity to try a lot of products, so it's hard to narrow it down to just one favourite, but among them at the moment is 111Skin's reformulated 'Reparative' collection. The range was originally created by 111Skin's founder and Harley Street plastic surgeon, Dr Yannis Alexandrides, to help his patients heal more quickly after their operations. I've been using the serum, eye cream and a moisturiser for two weeks now and it has totally transformed my skin.
Available from spacenk.com
Hannah Silver, Watches & Jewellery Editor
Olaplex No. 3 Hair Perfector
While I've never managed to quite get around to cleansing, toning and moisturising, one thing I can get on board with is a hair mask. For sad, dry, bleached hair, there's nothing better than Olaplex, whether it's an add on at the hairdressers or a luxuriant at-home treat. This No. 3 Hair Perfector smooths and hydrates the hair – just lather on every week or so and let it do its fuss-free thing.
Available from lookfantastic.com
Mary Cleary is the Beauty & Grooming Editor of Wallpaper*. Having been with the brand since 2017, she became an editor in February 2020 with the launch of the brand's new beauty & grooming channel. Her work seeks to offer a new perspective on beauty, focusing on the pioneering personalities, product designs, and transformative trends within the industry.