Photographer Tim Walker on his fantastical collaboration with Tod's at Milan Design Week
New exhibition 'The Art of Craftsmanship – A Project by Tim Walker' sees the British photographer celebrate Tod's made-in-Italy craft in signature surreal manner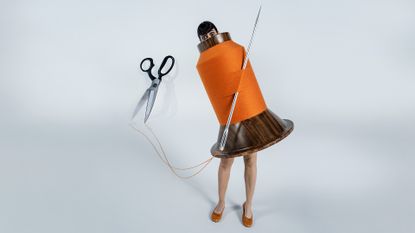 (Image credit: Photography by Tim Walker, courtesy of Tod's)
British photographer Tim Walker is known for his fantastical fashion images in which subjects are transported into dreamlike tableaux. They might be dwarfed by enormous Borrowers-like props, from storeys-high china dolls to enormous pencils, flowers, and story books, lounge next to roaring lions or galloping white horses, or climb out from the pane of a mirror, like Alice stepping through the looking glass.
Launching this evening (19 April 2023) at Milan's Le Cavallerizze Museo Nazionale Della Scienza E Della Tecnologia Leonardo Da Vinci as part of the city's design week, a new exhibition of original works sees Walker celebrate Italian shoemaker and fashion house Tod's and its rich history of artisanal craft. Titled 'The Art of Craftsmanship – A Project by Tim Walker', it traces the creation of some of the house's most memorable products – like the classic leather 'Di Bag' and 'Gommino' driving shoes – in the photographer's typically surreal manner. Models grin from within giant spools of thread or balance on blown-up wooden shoe lasts, while a series of striking portraits see figures cocooned in enormous sheets of leather.
Tod's: 'The Art of Craftsmanship – A Project by Tim Walker'

'I spent a fascinating day at the Tod's factory where I was able to witness the craftsmanship and skills that go into the products for myself, along with my set designer, Gary Card, and we both drew inspiration from this,' Walker says of how the project began.
'We wanted to let the specialist tools and methods play a starring role in the photographs. The artisan tools are so specific to the creation of Tod's iconic products, we wanted to find a way to celebrate them in a slightly surreal way in the photographs, playing with perspective, and hopefully some with some wit.'
As such, alongside the thread and lasts, the images feature an array of tools that Tod's has been using to create its shoes, handbags and leather goods for decades – from measuring tapes, scissors and wooden brushes, to more specialist instruments used to cut, stamp or perforate the leather. In one playful image, a series of these tools are stitched onto a leather glove and worn by a model, Edward Scissorhands-style. Though some images featured tools used in the Tod's factory, many of them were huge 2D cut-outs created specially by Card – able to be sliced apart or pieced together like enormous collages.
'We were largely experimenting with scale and perspective and with playful scenarios, using 2D cut-out props of the tools and models to create the images,' Walker explains. 'The disposable and temporary nature of the props we created for the shoot contrasts greatly with the creation of Tod's products, which have a feeling of great quality and longevity, along with the highly specialised skills, acquired over many decades that we witnessed at the factory.'
These processes were at the heart of the project, which Walker said he wanted to celebrate in a riposte to the 'increasingly digital world, where so much is being created on an industrial scale by machines'.
'The value of craftmanship is increasingly precious. Detecting the hand of a skilled craftsperson in a product gives it a unique quality and very particular beauty,' he continues. 'The people I met at this company and their experience were the real source of inspiration.'
The exhibition takes place as part of Milan Design Week 2023, and is open to the public from April 19-22 2023, before travelling the world later in the year. Diego Della Valle, president and CEO of Tod's Group, says the project with Walker is a chance to convey the house's values to a new younger generation, 'speaking their language'.
'The Art of Craftsmanship - A Project by Tim Walker' runs from April 19-22 2023 at Le Cavallerizze Museo Nazionale Della Scienza E Della Tecnologia Leonardo Da Vinci, Milan.
Jack Moss is the Fashion Features Editor at Wallpaper*. Having previously held roles at 10, 10 Men and AnOther magazines, he joined the team in 2022. His work has a particular focus on the moments where fashion and style intersect with other creative disciplines – among them art and design – as well as championing a new generation of international talent and profiling the industry's leading figures and brands.