Stone Island's OMA/AMO-designed Munich store is a temple to innovation
Samir Bantal of AMO talks Wallpaper* through Stone Island's Munich opening, which celebrates the brand's innovative processes and provides a home for its dedicated community of followers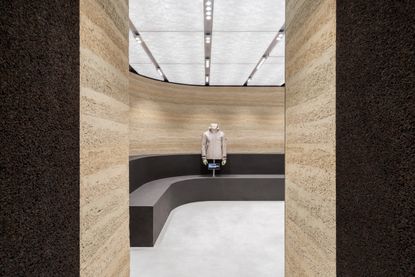 (Image credit: Photography by Marco Cappelletti, courtesy of Stone Island and OMA/AMO)
Wallpaper* Newsletter
Receive our daily digest of inspiration, escapism and design stories from around the world direct to your inbox
Thank you for signing up to Wallpaper. You will receive a verification email shortly.
There was a problem. Please refresh the page and try again.
Stone Island's synonymy with innovation and experimentation inspires its latest retail venture in Munich, a continuation of the brand's 'redefinition' of its international fashion stores by architectural firm OMA/AMO that began with an opening in Chicago last year.
The store itself is located in the city's Old Town, a vast three-storey space with an open granite-cut façade that will host the brand's full collections – alongside the limited Ghost, Marina and Stellina lines – as well as a 'community hub' in the basement featuring curved amphitheatre-style seating and a screen for presentations and events.
Stone Island Munich, designed by OMA/AMO
'What became evident from the first conversations with Stone Island around the Munich store was the presence of a loyal following in Germany, mainly in Munich,' explains Samir Bantal, director of AMO (AMO is the 'research and design studio' arm of the practice which seeks to 'apply architectural thinking to domains beyond'). 'The followers who have massed incredible collections of one-offs, prototypes, and extremely rare products.'
As such, 'process' became one of the store's inspirations, Bantal noting the 'unique relation' that Stone Island has to garment treatment, which is one of the hallmarks of the label. 'Stored in Ravarino, Italy [Stone Island's headquarters] are more than 50,000 recipes containing different techniques, processing materials, fabrics, and colours to a very distinct language – often even treated by hand,' he explains.
Bantal says that Stone Island's previous retail spaces did not always communicate these processes; as such, the Munich store contains a number of displays highlighting the brand's textile and garment innovation, filmed over the years in Stone Island's 'kitchen'. Other installations show the journey from fabric to garment. 'In our early conversations, it was clear that this passion for fabric treatment, colour dying and engineering was something that was really the core of the brand. It was missing in the store,' he says.
'A person who doesn't know the brand always reacts amazed and impressed with the level of dedication Stone Island puts in their products,' he continues. 'It was time we showed this, not in exhibitions or online videos, but physically in the store. The Munich process wall is a prototype and will have additional features in future stores.'
Other features include the 'chandelier', a 'visual display module' in stainless steel, which can play content from the brand, be tilted and rotated, or lowered into a table (with digital media offering 'a new layer of expression, this device will function as a small gallery', says Bantal). An upper floor sees AMO collaborate with creative practice Elvis Wesley on an aluminium case to display Stone Island's 'Ghost' collection, while materials featured throughout the store reflect those in Chicago: burnt cork, sand-sprayed surfaces and Tyvek ceilings.
The basement auditorium, meanwhile, features walls made from compressed layers of soil 'resembling the veins that run through the earth'. Made to host lectures and events, community areas like this are essential to the store's design. 'Every floor could host a special moment of reveal or communication. The auditorium in the basement can host a talk a presentation, not only of new products, but could even host a talk by a collector, or an invited guest from a discipline or culture that related or inspires Stone Island,' says Bantal. 'The upper floor is focused on the intimate moments of browsing and sharing with peers. The sense of community can be found on every floor. '
'In a time when the digital becomes such a ubiquitous form of communication, we think that physical spaces where likeminded people meet are important,' he continues. 'I want people to feel like they want to explore the store; that every part has something to discover, be it product, be it architecture, be it material.'
Stone Island Munich, Perusastrasse 2, 80333 München, Germany.
Receive our daily digest of inspiration, escapism and design stories from around the world direct to your inbox
Jack Moss is the Fashion Features Editor at Wallpaper*. Having previously held roles at 10, 10 Men and AnOther magazines, he joined the team in 2022. His work has a particular focus on the moments where fashion and style intersect with other creative disciplines – among them art and design – as well as championing a new generation of international talent and profiling the industry's leading figures and brands.