Pitti Uomo 103: everything you need to know
As menswear fair Pitti Uomo wraps for another season, Wallpaper* selects its highlights – from an Italo-Disco ode to Florence from Martine Rose to new collections from Brunello Cucinelli, Herno, and more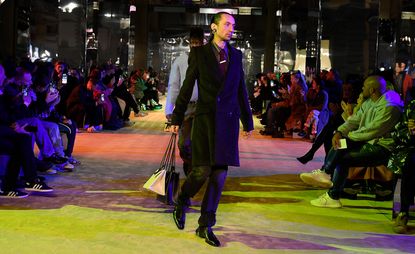 (Image credit: Courtesy of Martine Rose)
The crowded thoroughfares of Fortezza de Basso, the 16th-century fort in Florence that hosts Pitti Uomo, were a testament to the historic menswear fair's continuing relevance as it reaches its 103rd year in business. With somewhat muted recent seasons in the wake of the Covid-19 pandemic, this year's edition saw international menswear designers, brands, buyers and press decamp to the city for a schedule which included guest shows from Antwerp-based designer Jan Jan Van Essche, and British designer Martine Rose.
The latter's show, held on the final evening of Pitti Uomo, marked the first time that Rose has shown outside of her home city, London. A typically energetic offering from Rose – who is known for her idiosyncratic menswear, which draws particularly on the British subcultures of her youth – looked here towards the shimmering sounds of Italo disco in a show which took place in Florence's central Mercato Nuovo. Rose said she asked herself: 'How do I do what I do in London, in Florence?' Her answer was to gather a vivid cast of locals, from Calcio Fiorentino football players to Florentines scouted from bars and cafés, who walked alongside friends of the brand from London.
Pitti Uomo 103: the highlights
Rose said the collection was about 'plural masculinities', making for a typically eccentric mix of clothing archetypes, drawn from both men's and women's wardrobes – whether Western-style fringing, low-slung denim jeans or broad-shouldered tailoring – 'splicing codes' and opposing 'poles of formality and seriousness'. A riff on what she called 'toy clothing' saw playful, misshapen silhouettes blown up in size – often imbued with elements of stiffness to hold the off-kilter shapes – their wonky forms reminding the designer of the joyful disorientation of being inside a nightclub (the mirrored set itself, with shag-pile carpet, was designed to evoke Italian nightspots). 'I wanted a feeling of sexiness, cheekiness, and fun,' she said after the show.
'I really do see the beauty in everyday things and everyday people,' continued Rose, who hoped the show marked a 'real collaboration of Italy and London together'. 'I started working on the collection before I was invited, and then once I was invited, Florence influenced everything, even subconsciously.' It marked a continuation of her brilliant show in London's Vauxhall last June (during London Fashion Week S/S 2023), astutely playing with codes of masculine dress in her own unrestrained manner (Rose has rarely stuck to the rules of the fashion week schedule, showing only when she feels ready). It was exciting to see Rose's work in a fresh context, and for a whole new audience to experience her work in person.
Van Essche's outing was a more meditative affair, held in the cloisters of the Santa Maria Novella cathedral. The designer's signature oversized silhouettes and ritualistic inspirations were evident in the serene collection, which ended first with a dance performance before the doors opened to the cloistered square beyond where a percussionist performed in the centre. With models backdropped by the cloisters' 15th-century religious frescos, the transporting milieu was a testament to the impressive historic venues which Pitti Uomo affords its visiting designers.
Elsewhere, British artist and designer Luke Edward Hall was another guest of the schedule, hosting an intimate gathering at Fortezza da Basso – complete with famed truffle sandwiches from Florence institution Procacci – to celebrate his Chateau Orlando line, which spans clothing and homeware, often featuring the vivid hand-drawn motifs which have become his signature. The fifth collection, debuting at the fair, was titled 'Storm Prince of the Old Cornish', inspired by a trip to Lamorna Cove, Cornwall, where he immersed himself in folklore from the region. These tales became prints across the collection, from horned stags to sea serpents, encapsulating Hall's oftentimes eccentric approach to design.
Brunello Cucinelli is a Pitti Uomo stalwart, debuting its men's A/W 2023 at the Fortezza da Basso, having held a dinner in the grand neoclassical surroundings of Palazzo Borghese the evening prior. As ever, the collection itself proposed a complete and expansive wardrobe for the Cucinelli man, whether an eye-wateringly luxurious cashmere-vicuna mix camel overcoat, or more quotidian riffs on the trucker jacket, denim jeans, and overshirt. Elsewhere, a new capsule collection of skiwear – including a pair of entirely hand-knitted sweaters and crisp, optic white salopettes-style cargo trousers – are primed for both on the slopes and après ski.
Also at Fortezza da Basso, Herno revealed its designs as the new formalwear partner of FC Barcelona (the designs will be worn by both the men's and women's football and basketball teams until the 2024/2025 season). In attendance was Carles Puyol, the legendary FC Barcelona central defender and longest-serving captain of the team to launch the collection, and his influence was seen in the crowds attempting to get into the Herno stand. The various pieces feature dynamic silhouettes in the innovative fabrics for which Herno is known. Among them are a parka in 'sub-zero down' scuba (complete with 'H' patch), a scuba blazer, a lightweight turtleneck in wool, and technical stretch trousers. The brand also announced that the collection will go on sale to the public.
AlphaTauri is returning to what the RedBull-owned brand calls its 'core competencies' this season, shifting the weight to menswear and continuing to instil high-tech innovations into everyday garments – from signature parkas to 3D seamless knits and lightweight trousers. '[We want] to develop our core competencies around innovative outerwear and 3D knit and continue to consistently within our collection,' says AlphaTauri CEO Ahmet Mercan. 'Thanks to our innovative technologies and the many functional features, we will be able to respond even more perfectly to the needs of our customers.'
Also innovating with knitwear – albeit in a radically different manner – is Waste Yarn Project, which creates a variety of pieces knitted from leftover factory yarn (much of which simply ends up on the factory floor). This season's colourful pieces draw inspiration from the Hønsestrik method, which was popular in Scandinavia in the 1970s. Particularly appealing was a series of polo sweaters in mismatching coloured stripes – a demonstration of founder Siri Johansen's distinct eye for colour and shape, and proof of the fair's continuing support for emerging talent.
Finally, this year's edition saw the arrival of 'Pitti Pets', a nod to the burgeoning market for luxury petwear. While the offering at this year's fair was slight – largely confined to Italian labels and comprising objects with distinctly utilitarian purpose – the sighting of numerous canine companions in the Fortezza de Basso's grounds suggests that its introduction was warranted, no doubt expanding in seasons to come.
Jack Moss is the Fashion Features Editor at Wallpaper*. Having previously held roles at 10, 10 Men and AnOther magazines, he joined the team in 2022. His work has a particular focus on the moments where fashion and style intersect with other creative disciplines – among them art and design – as well as championing a new generation of international talent and profiling the industry's leading figures and brands.