Supermodel Paloma Elsesser opens up about documenting her breast surgeries in an exclusive interview
Paloma Elsesser's book Treasure, with photographer Zora Sicher, is an intimate record of her breast surgeries. The pair tell us why they wanted to make the images public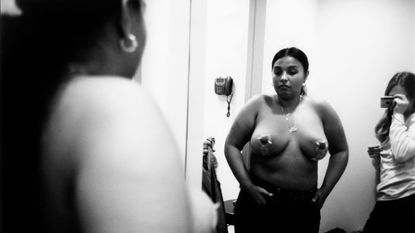 (Image credit: Zora Sicher)
Wallpaper* Newsletter
Receive our daily digest of inspiration, escapism and design stories from around the world direct to your inbox
Thank you for signing up to Wallpaper. You will receive a verification email shortly.
There was a problem. Please refresh the page and try again.
You might think that images of model Paloma Elsesser's two elective breast surgeries are gratuitous. You might think her very desire to document the surgeries with her friend, photographer Zora Sicher, and decision to publish a book of the images, called Treasure, are even more so.
Elsesser is ready for you to think those things. She's been in the spotlight long enough to know what's coming – having been 'discovered' by make-up artist Pat McGrath in 2015, before rapidly progressing to supermodel status – but she knows better than to let it bother her.
As she tells me over a phone call from her home in New York, she can 'accept that [the book] might not be largely understood and that some people might just think of it as an invitation to go get your boobs done, but I know that's not its purpose'.
Its purpose, as Elsesser sees it, is an 'invitation for thought'. When she asked Sicher to accompany her on doctors' visits, to document the bloody and painful experience of the surgeries, to capture her vulnerability while healing, it was because she wanted a personal record of what she went through, a way to access the pain of it and a reminder of why she did it.
That might seem to contradict the fact that she is now publishing those images for people to see, but Elsesser doesn't see it that way.
For her, doing something for yourself doesn't mean it has to be kept to yourself. 'I feel that there's a quite binary way in which people [believe] authority of self means having it be no one's business,' she says. 'But I feel that the conversation around self can also be everyone's business.'
This philosophy has probably grown, at least in part, from her career as a model, where her success is measured by where and how often her image and her body are on show. It is an experience that carries even more weight for Elsesser because, as she frequently explains, her success as a plus-size model means that her participation isn't just her own. If she chooses not to take part in a show, it could mean that a sample in her size might not go into a season. Or if she doesn't take part in a campaign, it means that a curve model might not be featured at all.
'Elective surgeries are also very, very common, but the conversation around it and the image of it outside of it being on "botched" or a super-voyeuristic portrait study doesn't really exist,' Elsesser says. 'And I think I've always had this message in my mind to create what doesn't exist – whether that be imagery, conversation, whatever – so I felt like this is something that I'm doing for me, but it exists [to empower] other people as well.'
It is a sentiment echoed by Sicher: 'I think we live in a time where body modification and plastic surgery are so present, yet still quite taboo and still behind closed doors. And I think that, often, the way that it's documented is in this very kind of voyeuristic way that creates a caricature of the thing itself. So I was really excited to be a part of something that was a dialogue, and was looking at the inner workings of something that is extremely emotional, because it really is a complex thing to talk about and to document.'
Treasure also features a conversation between Elsesser and French artist Orlan, best known for surgically changing her appearance in the name of art.
Elsesser wanted to include her voice because, 'I've always been obsessed with femmes in authority of their own image, and I came across her carnal art when I was quite young. I was taken aback that this was a person in authority of their image in every kind of way, and I found that to be super interesting and very compelling. And obviously [now] it is in conversation with the work that I do in general, and those glaring [moments] where I don't feel in authority of my own image, body, brain, all these things.'
Treasure is published today, 10 September 2023, by Idea Books, with only 500 copies available for purchase.
Receive our daily digest of inspiration, escapism and design stories from around the world direct to your inbox
Mary Cleary is the Beauty & Grooming Editor of Wallpaper*. Having been with the brand since 2017, she became an editor in February 2020 with the launch of the brand's new beauty & grooming channel. Her work seeks to offer a new perspective on beauty, focusing on the pioneering personalities, product designs, and transformative trends within the industry.