New York Fashion Week S/S 2024: Tory Burch to Willy Chavarria
New York Fashion Week S/S 2024 set off womenswear fashion month with a packed schedule spanning big-name debuts, runway returns and plenty of hometown favourites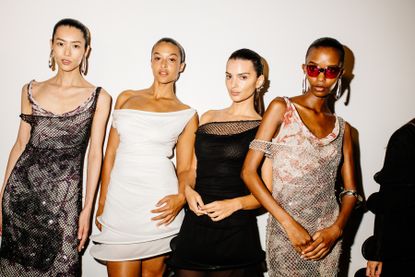 (Image credit: Photography by Hunter Abrahams, courtesy of Tory Burch)
Wallpaper* Newsletter
Receive our daily digest of inspiration, escapism and design stories from around the world direct to your inbox
Thank you for signing up to Wallpaper. You will receive a verification email shortly.
There was a problem. Please refresh the page and try again.
New York Fashion Week S/S 2024 took over the Big Apple in the sweltering late-summer heat with a broad array of intriguing collections from the city's finest. Some of this season's most-watched presentations included Peter Do's vision for Helmut Lang, the runway debut of minimalist master Fforme, a robust showing from rising star Diotima, and returns to the runway from Phillip Lim and Ralph Lauren. Anchored by recognisable hometown favourites like Proenza Schouler, Khaite, Willy Chavarria and Gabriela Hearst, the week proved the continued prowess of American fashion, with plenty of surprises – and new discoveries – in the mix.
Here, everything that went down at New York Fashion Week S/S 2024, reported by Wallpaper* US editor Pei-Ru Keh and contributing editor Tilly Macalister-Smith.
The best of New York Fashion Week S/S 2024
---
Willy Chavarria
Willy Chavarria's shows are a narrative gift: sitting at one of his presentations feels like you just opened your eyes in the middle of a scene in a feature film, or perhaps another world. Cinematic, poetic, theatrical; a bristling tension and anticipation underpins the unwavering focus of his models, their steady metronymic gait, their cool dismissive stare.
The Woolworth Building, an impressive Gothic revival skyscraper that was once, for a time, the tallest building in the world, stupendous in decoration and scale, provided the stage. It's a New York landmark, and Chavarria wanted to give his audience a New York experience. He applied his own lens to tropes of American life, recasting familiar garments into symbols: Stetson hats, varsity T-shirts, sporty windcheaters, preppy monogrammed brass buttons. A red T-shirt with puffed-up shoulders was as big as an American football jersey; a T-shirt emblazoned with 'USA' subversively printed upside down. Similarly, his reach is grasping characters that prop up American contemporary culture – namely musicians and athletes (Venus Williams arrived at the US Open, racquet bag in hand, wearing a Chavarria blazer and enormous corsage just a week earlier). Eveningwear and tailoring took precedence over streetwear. A white dinner jacket with a dramatically oversized corsage was worn with a pointed lapel and black shirt. White tights and patent shoes were teamed with basketball shorts. Suits so structured they could have had broom handles threaded across the shoulders gave gravitas to youthful, slender models. The sensational casting reflected the diverse and extraordinary multicultural beauty of the city. Afro hair was coiffed and twisted into elegant rolls, straight hair was pulled into teddy quiffs, scalp tattoos were visible under buzz cuts.
The show, titled 'New Life', offered a glance at times past – a couple of looks comprised moth-eaten vests and underpants only, while a ruby red double-breasted blazer with brass buttons had been cleverly aged to implied years of sun bleaching on the hanger, collecting dust. Chavarria is doing anything but. TMS
Luar
Raul Lopez lives for duality. And it's a point of view that clearly resonates – his namesake label, Luar, has been on an ascendent trajectory, not only for its covetable (and affordable handbags) but for its ability to speak to different communities as well. This was especially apparent in his latest collection, 'Socorro', which drew from a specific experience Lopez had in the El Hoyo region of the Dominican Republic, as he sought creative inspiration. Driving through traffic, he was confronted by a woman preaching at a makeshift podium on one side and people drinking, doing drugs, hips swaying in revealing outfits on the other. 'It was all walks of life at one time and it made me think, at the end, I feel like everyone is looking for some kind of saviour. These girls, these guys and kids on that side are waiting for somebody to save them. Some daddy or something that's going to pay their rent. I was just sitting there and getting goosebumps,' says Lopez.
Sartorially, this experience was expressed through deconstructed tailoring, exaggerated collars as if the wearer was being pulled back, sweeping skirts with a winding line of buttons that could be undone to reveal more leg and power-shouldered jackets, shirts and T-shirt dresses suitable for all genders. Lopez also presented his version of the polo-shirt, 'my interpretation of the Latter Day Saint boy, with the cargos,' he says, in shapes of taupe and buttercream. 'It's very specific, like "I look rich". It's crazy what a colour can do.' Patented pleated mini skirts, crackled leather pants and slashed open jersey dresses that clung to the body created a feeling of subversion, especially when paired with Luar monogrammed white stockings and the new array of eyewear - a perennial Luar strong suit.
This season, sunglasses and frames were fashioned in dramatic visor shapes, one pair was even attached into a cowl neck top for extra drama. 'People are always trying to mask themselves. It's a way of shielding themselves and going 'oh you didn't see me last night'. Lopez's unique sensibility of luxury, grit, flash and legacy, and his ability to mix them together with a sense of humour, is exactly what makes his brand so special. Fearless and unapologetic, it continues to be the mic drop of New York Fashion Week. PRK
Puppets & Puppets
Part of the conundrum of a Puppets & Puppets show is working out where the collection lands on the sliding scale between surrealist absurdity and actually wearable clothes. Carly Mark believes a 'never the twain shall meet' approach is missing the point. More readily weighted in eveningwear than past collections – although who's to say sequins are not for noon – a new sense of grandeur also arrived: great swathes of taffeta were lifted over shoulders like regal sashes, swags of sequins draped goddess style and black floral brocade was cut into a generous cocoon dress. And the more useful bits felt, well, all the more useful: a white cotton blouson sleeve summer dress; a grass green cropped polo shirt. Curiously, a mythical wolf-inspired beast with a unicorn's horn fronted a white T-shirt. Answers on a postcard. TMS
Head of State
Head of State's multi-disciplinary founder Taofeek Abijako sought to create a more reflective moment this season by exhibiting a capsule of new pieces, alongside an exhibition of artworks curated by Diallo Simon-Ponte. 'It's actually a perfect rhythm because while a runway show represents the final world, this exhibition is a slowed-down moment where the audience can see the thoughts that go on behind putting together the collection,' Abijako said at the opening. 'Every artist here is someone I look up to and would like to collaborate with, so in a way, the exhibition gives the audience a chance to slow down and fully experience the narrative.'
Collectively titled 'Home As Corpus', the presentation explores the body as a location of home 'by excavating how we as people carry our origins through the corporeal. Featuring works by Cameron Granger, Nola Ayoola, Oluwatobiloba Ajayi, Isabel Okoro, and Lewinale Havette, which actively contemplate generations of diasporic movement in painting, photography, film, sculptures and textiles, 'Home As Corpus' expands on Abijako's experience of being new to this land. Not only does the passage of time engrave and sculpt our lineage into material existence, he also recognises that each step towards a new future carries the dreams and wisdom of the past.
Stemming from his last collection 'Memories of Home', Abijako unveiled three new gowns, each inspired by iconic architecture of Nigeria. 'The new looks are a teaser for what we have in mind for next season,' he continues. 'It's definitely way more sculptural than any of our previous work and that's due to the fact that we are referencing a lot of architecture back home. We chose three iconic architectural references and we came up with this.' In both the capsule and the works on display, the emergence of the colour red as a connective thread was clear to see. 'Given the idea that home is a corporeal thing that exists within you, the colour red is literally within us, our blood. It was an easy reference to make.'
Curator Diallo Simon-Ponte adds, 'We never had a conversation about red. We just had been aligning on so many other things that red just materialised. We were just vibrating at the same frequency. All of these works and pieces ask one to walk into the space and explore. It doesn't have to be about memories of home or where we have come from. It's like you are physically carrying that presence on through the corporeality of your body when you enter a space.' PRK
Kallmeyer
After being a stealth staple in the wardrobes of many a New York woman, Daniella Kallmeyer's eponymous brand is garnering a spotlight of its own. Following on from an evocative resort collection, which saw Kallmeyer draw inspiration from the American southwest, the designer sought to capture what was missing from her customer's wardrobe. The result is a seasonless, yet still impactful, collection of versatile garments that will leave others wanting for more.
'Resort was so much about filling in your wardrobe with all of the things that we were missing after over a decade of being a suiting brand,' says Kallmeyer. 'After doing all that filling in, I wanted to strip that all down for spring, so that your first collection in the new year was about a blank slate, a clean palette, giving you pieces that you could layer and change as you wear them.'
Staged salon-style in the Corner Bar's dining room – a sumptuous amalgam of faded periwinkle walls, boisterous blue carpet and mirrors all around, where illustrators sketched models wearing the new collection live – Kallmeyer's sense of tailoring and silhouette rang clear as a bell. Collarless jackets with slim trousers felt both modern and classic, and could easily fit multiple occasions. Full-length white shirt dresses and tunics, delicately held together by ribbons tied on the side, brought a new sophistication to wearable classics, while chore coats, lightweight trenches and relaxed drawstring trousers balanced comfort and elegance.
'There's so much like glamour right now and fashion turns people into something else, right?' she says. 'I wanted to make it about the person wearing it and that's really what Kallmeyer is about.' PRK
COS
COS marked its return to New York Fashion Week with an epic runway show staged against the city sunset as viewed along Manhattan's river. Presented in the Classic Car Club of Manhattan, the show saw models weave around sculptural, galvanised steel structures that reflected the setting sunlight as it pooled through oversized garage doors.
This appreciation of the essential carried through COS' A/W 2023 collection, where functional tailoring merged with innovative methods of deconstruction. Classic cuts demonstrated subtle tweaks to feel refreshed; trouser suits with an elongated silhouette were infused with a sense of ease. Jackets with strong, structured shoulders were worn with slinky, silk skirts and head-to-toe knitwear looks were matched with hoods and oversized fringe scarves, neatly pinned together. Quiet details abounded, such as neck-tie detailing on shirts and fringing on capes and dresses, which added a touch of panache to everyday staples. A wool overcoat adorned with leather tassels made from offcut material, was a highlight.
With quality and longevity at the heart of the collection, several thoughtful touches, like adjustable elements to ensure the right fit and reversible design to provide versatility, have been added to ensure the longevity of the pieces, while 92 per cent of the materials in the collection have also been sourced from sustainable sources. Even the materials and carpeting used in the show's set design, conceived by Bureau Betak, will be donated to the Materials for the Art, a program of the New York City Department of Cultural Affairs and the city's creative reuse centre that provides non-profits, public schools and city agencies with access to free materials. PRK
Carolina Herrera
For S/S 2024, Carolina Herrera creative director Wes Gordon cast his eye towards another perennial New York muse, Carolyn Bessette-Kennedy. Gordon drew from Bessette-Kennedy's casual glamour and effortless elegance, showcasing an array of fine-gauge knits and clean, slender silhouettes in nod to the American icon. Peppered with signature Herrera flourishes, such as the cotton shirt, feminine florals and playful injections of colour and texture, the collection aptly juxtaposed the contemporary drama of the Whitney Museum of Art, designed by Renzo Piano, which set the stage for the show.
Against the museum's polished concrete floor, Gordon's feminine collection ranged from sheer lace separates and clean, column-like dresses, mixed with more voluminous shapes in pastel-coloured tulle. A long-sleeved v-neck column gown in lilac jersey cut a strong (and body-skimming) figure, while a silk bias-cut worn with a black wrap-dron jacket evoked the spirit of the label's founder, an enduring muse in her own right. In addition to the more showstopping looks, there was a strong focus on daywear, with delicate cardigans, a floral jacquard knit crew neck and pencil skirt combo and a polka dot shirt dress, continuing a different version of the drama. However, for those looking to make a full statement, there were sequinned knits, gowns fully covered in pailettes and embellished lace aplenty. PRK
Diotima
Rachel Scott started her brand with an urgency to nurture fading Jamaican craft into a thriving business. To that end, she has engaged and is growing a network of craftswomen to make, in particular, her crochet designs which are fast becoming her handwriting. This time, the crochet felt even more delicate, almost spiderwebby, executed with a finer yarn. A deep red and black doily of spun crochet lace was fashioned into a halter dress. The expressive freehand of the craft sits in contrast to the formality of wool suiting, 'harkening back to the informal dialogue that was born out of the Jamaican diaspora during the Windrush era,' she explains. A standout was the coat in bone linen, shot through with gold. Scott says she is championing a more 'expansive definition of luxury, one that is not exclusively centered in Europe'. This season she collaborated with artist Laura Facey, whose work she was drawn to after seeing her solo show last year in Kingston, Jamaica, which addressed the haunting history of slavery in the Caribbean. Scott and Lacey connected online, and a creative back and forth ensured, which resulted in the chalk drawings that Scott showed today folded into skirts and dresses, as well as the carved wooden hearts that hung from necklaces and belts. TMS
Gabriela Hearst
The first collection since the designer stepped down from being the creative director of Chloé, Gabriela Hearst's presentation for her namesake brand proved that her sartorial point of view is alive and well. Holding the core values of sustainability and creative collaboration close, the collection was a lesson in understated luxury that emphasized ease and wearability.
For S/S 2024, Hearst collaborated with the Haitian artist Levoy Exil. Known for his influence in the Saint Soleil art movement, which empowers people to explore creativity and spirituality through art, Exil's pointillist work explores Haitian heritage by drawing inspiration from voodoo spirits and dreams. His art served as the jumping-off point for the macramé garments in Hearst's collection – vibrant patchwork compositions hand-crocheted into dresses and ponchos by Bolivian artisans. These were countered but Hearst's suits, layered dresses in silk organza and sculptural leather dresses that all frame the figure.
Accessories have long been a Hearst strong suit. This season, a platform sandal with biodegradable EVA soles, nappa leather straps and silver or rose gold buckles complemented almost all the looks. Paired with two of the collection's new clutches – the slouchy Taylor, which boasts a jewellery-inspired chain strap, and a metal evening clutch, inspired by 1920s vanity cases, that features a marble push button mechanism – the collection aptly captured the beauty that lies in restraint. PRK
Zankov
'The collection is called "Lighten Up", to, you know, lighten up,' laughed Henry Zankov at his Chelsea gallery presentation. 'I wanted everything to feel substantial still but I wanted things to have a lightness, whether it was the colour, or the material, the yarn, the stitch.' New experimental textiles such as transparent recycled cellophane, shredded cotton tapes and fisherman's ropes were used in complement to his signature yarns of brushed mohair, merino, and alpaca. Vibrant zingy colours took inspiration from nature: azure, hortensia blue, and bergamot yellow. 'This dress,' he says, pointing to an open-weave floor length dress, 'is a hand-knit drop needle in a high twist rope cotton. And because it's dropped needle, it creates a sheer effect, so you have this openness without it being too revealing.' That's part of the brilliance of Zankov – his technical expertise is administered with the same effortlessness as his friendly demeanour, making the whole operation feel natural and easy (despite the very many hours of development in each piece). The designer is nominated for the CFDA Vogue Fashion Fund Award, which will be announced in mid-October. TMS
Fforme
Paul Helbers has been quietly working away in his Paris studio for the past couple of seasons on Fforme. While it has been gaining traction with an audience who prefer their clothes understated and logo-less, today marked a step up for the brand which held its inaugural show – rather than a static presentation format. For such pared-back clothes, where the precision of how they drape, fold and move on the body is precisely the point, seeing them in action brought them to life. Colour, albeit tonal neutrals such as spicy chocolate, dusty pink plum, and putty, was also introduced more readily and added depth. The overall effect was equal parts pulled together and relaxed. Fine-gauge knitwear achieved a slouchy relaxed look thanks to a dropped yoke at the back. Featherweight cardigans layered over asymmetric knit T-shirts and pencil skirts felt effortless and free of bulk. It was perfect for a day like the confused weather of today – humid, drizzly, truly between seasons, ducking between steamy streets and frigid over-air-conditioned buildings. PRK
Tory Burch
Nearly a decade since its announcement, the recently completed Gilder Centre for Science, Education and Innovation at the American Museum of Natural History hosted its first fashion show. Tory Burch was a fitting partner to fill the ground floor of the staggering 230,000 sq ft space. Its ergonomic, futuristic design – the work of Studio Gang and its founder Jeanne Gang – was the perfect backdrop to the designer's S/S 2024 collection, whereby the Sixties and all its space-age optimism rang loud and clear, albeit delivered with a contemporary hand. Bulbous sunglasses, mini tunics with deeply scooped necklines and silver bauble jewellery may have begun with retro references but landed feeling entirely of the moment. A car coat with stand collar felt undeniably Jackie O, but on Adwoa Aboah became instantly feasible for a whole younger, edgier audience. The 'TB' logo was subtly yet psychedelically overprinted onto polo shirts and handbags. Notably, richly tactile textiles brought depth, such as furry stretchy knits and the dresses constructed of jangling silver chainmail, which were art pieces in themselves.
Michael Kors
If the medium is the message, then vacation is the headline. Guests, editors and celebrities arrived on the waterfront in Brooklyn, where the skyline view stretched from the Williamsburg Bridge to the Empire State Building (the weather gods were being kind). As river boats journeyed past the pink bougainvillea and Dionne Warwick's 'Walk On By' floated on the breeze, Kors presented clothes that pack well, travel easily and are just as relevant at home in the city. There were roomy lace shirt dresses, a linen kaftan strung with gold cord, crisp poplin white shirts. Colourful additions such as bubblegum pink lace flares and a lilac suede trench felt young and fun but were convincingly multi-generational. Mini shifts embellished with Sixties gold hoops – a motif that extended to chain link belts, circular buckles, straps on tops, and large loop bag handles – brought youthful glamour. Prints of hothouse flowers were blown up into exaggerated reliefs, while chiffon was twisted into Grecian-inspired gowns. Menswear included elegant oversized single-breasted coats that hung off shoulders and a black mini-sequin ensemble.
Ulla Johnson
Powerhouse Arts, the non-profit organisation in Brooklyn, provided the canvas for Ulla Johnson's summer collection. Models walked between strings of beautiful shells which hung in arcs from the tall atrium ceiling. On the concrete floor, giant circular shells had been drawn with sand. Johnson explored the circle, which she described as a 'divine form of nature' in her show notes, directly in her clothes, from rustling paillettes to pinwheels of chiffon that adorned generous circle skirts.
Indeed, generosity and abundance seemed to be the gist here. Dresses flowed generously; tight knife pleats disguised yards and yards of fabric; crochet dresses with hours of work hung effortlessly from the shoulder; a perfect shell had been placed on every guest's seat as a keepsake. Highlights included a beaded top worn with zebra-print kick-flare pants, a sheared artful jacquard that had a furry effect, a vibrant cobalt broderie anglaise shirt dress, and wisps of silk satin trimmed with lace in lemon and apple. A collaboration with Brooklyn-based artist Shara Hughes saw dresses and separates printed with hand-painted scenes of sunsets and oceans from the artist's landscape series. TMS
Dion Lee
Dion Lee has long captured the tension between opposing forces in his collections. By pitting masculine against feminine, glamour versus the industrial, or the toughness of stiff leather and the softness of chiffon, the designer has built his brand's philosophy around wedding the seemingly incompatible. This season was no different, with tailoring and suiting opposed with baggy denim, clingy jersey and exaggerated leather shapes, including thigh-high leather boots embellished with pockets and pouches, part of an ongoing collaboration with Parisian label Both.
Instead of the overt, club-kid sexuality that Lee presented last season, this collection felt pared back in comparison. The opening looks, which comprised sharp-shouldered suit jackets with oversized leather cuffs, worn over crisp white shirts, were finished with steel metalware. A collared, high-cut white bodysuit that followed showcased a nipped-in, corseted waist, embellished with custom-made spanner wrenches and completed with the Dion Lee logo. This utilitarian, industrial arc continued into the oversized buckles, parachute straps and metal chain details adorning handbags, asymmetric ruched tops and jewellery – always a brand strong suit. A master of manipulating proportions, Lee paired baggy overall shapes with cut-out bodysuits, figure-hugging hoodies with slinky jersey skirts and cropped leather jackets with floaty bubble skirts that all manage to highlight and subvert the figure at the same time.
Eveningwear was probably the most refreshing of all. Crescent-shaped cut-outs on full-length ribbed knit dresses accentuate without giving away too much, while fluid, cut-out draped dresses, held together with metal hardware, fuse a conventional glamour with Lee's tongue-in-cheek aesthetic. PRK
Eckhaus Latta
One of the staggering triple-height marble lobbies of the Rockefeller Centre was filled with jostling youthful energy transported from downtown for Eckhaus Latta's latest outing. It's always heartening to witness the devoted fans from all over the city who arrive wearing their favourite Eckhaus Latta pieces from seasons past; it's a galvanising display of friendship and camaraderie. This season, models walked with urgency and attitude, in lockstep with the bass of New York DJ and songwriter DOSS's dance soundtrack. The clothes had an air of provocative insouciance: zips ran up-to-there on the back of pencil skirts and jeans; lace came in all colours and cuts for men and women; sheer cardigans were for boys and girls alike. There were some impressive feats of engineering disguised within the cool: a pair of boxy, springy jeans were crafted using a new proprietary 3D weaving technology in collaboration with San Francisco-based fashion tech company Unspun. The shredded denim and midnight blue shimmering trousers were also thanks to the same partnership. Sometimes such sustainably packaged collaborations feel like shoe-horned tokenism, but Eckhaus already has upcycling and dead stock processes woven into its ethos, and what's more, these were some of the most beautiful pieces in the collection. A collection that felt like it offered progress for us all.
Area
Drama was served this season as Area's Piotrek Panszczyk explored the idea of primal instinct through various periods of fashion history. Presented under the opulent, painted dome of the former Williamsburg Savings Bank, which was built between 1870 and 1875, Panszczyk reinterpreted time-honoured symbols of aristocracy and wealth through alternative material explorations. What appeared to be heavy full-length fur coats were instead realised in hand-painted cotton, panelled and padded to resemble the real thing. Fox fur stoles of the Gilded Age were reimagined as a glittering bikini-style top, complete with a coordinating mini-skirt, with multiple sequinned 'foxes' trailing behind like tails.
Conscious that these materials, which are typically considered luxurious, were originally used as a means for survival, Panszczyk also picked up on bones as a recurring motif. The brand's signature crystal-encrusted dresses featured such motifs tied into cut-out panels and halter necklines, bringing a carnal aura to already provocative silhouettes. On its equally recognisable denim pieces and a series of white suiting, claw-shaped cut-outs and skeletal hands, rendered in crystals, emitted a surrealistic appeal that the label's ardent fans would undoubtedly fall over. Capped off with goth-like catsuits and bustier pieces encrusted with rhinestones, Area's show-stopping ethos easily warrants its position between ready-to-wear and couture. PRK
3.1 Phillip Lim
Phillip Lim made his return to the runway after a four-year hiatus. In the collection's show notes, the New York designer shared that he 'took the time off to reflect on why we kept showing without truly showing up. How we continue to aimlessly feed fleeting desire at an increasingly impossible pace; ambiguous demand amidst the horizon's sea change that we continued to ignore as if it would go away.' In that time, Lim has served as a galvanising force within the Asian American Pacific Islander creative community, speaking out passionately about racism and inequality while using his platform to foster Asian representation and visibility.
He writes, 'since then, so much has happened to transform us and remind us why we continue to fight for what we love and who we love. Even though it has become continuously more difficult to navigate this changing industry run by titans and fueled by "au courant∏ marketing, the bottom line is the only way for change to happen is to make sure the next generation sees us doing what we love, including them in the narrative and being whomever the FUCK we need to be.'
Both sides of his practice blended poetically together in his S/S 2024 collection, which coincides with the brand's 10th anniversary. Staged in an empty commercial space at the main crossroads of Chinatown in Manhattan, the collection showcased Kim's expertise at highlighting beauty in the utilitarian, with quiet tributes to New York and Asian heritage woven throughout. The show opened with a series of delicate chiffon looks, lightly embellished with large crystals and paired with sheer Chinese slippers. These segued into iterations on the brand's signatures: fluid, asymmetric silk dresses, softly structured tailoring and architectural curve-heel sandals. Lim's astuteness to silhouette was particularly palpable in a bubble-shaped blouse, held together with thick leather cord, and swingy, deconstructed cotton jackets that exuded ease and drama. There was a similar approach to evening, with sheer chiffon gowns taking wearable shapes while still making a statement through clever draping and ruching. A perfect wardrobe for day and night dressing, this was the return many were hoping for. PRK
Proenza Schouler
'We thought it interesting to show at Phillips auction house, because that's where art comes to be judged,' joked Jack McCollough backstage after his latest outing at Proenza Schouler alongside Lazaro Hernandez. As well as showing their collection today in the bright white offices of the auction house, the duo have an artwork – a unique drawing on paper, which recalls their initials – on sale in Phillips' 'Editions & Works on Paper' auction (the estimate is $10,000–$15,000) where it sits alongside works by Agnes Martin, Ellsworth Kelly and Willem de Kooning.
'Some of the dresses just weigh nothing,' McCollough continued backstage, speaking of the chiffon pleated sun dresses, printed as if with blue sky or grey clouds. 'Lots of transparent, watery layers,' added Hernandez. As well as the lightness and prettiness, they hit big winners in every category with their trademark tough girl polish – a leather car coat that fastened with a square silver clip; over-bleached denim; stretchy string vests and dresses in the most luxe thick silk satin. Despite the confident usefulness and ease of the clothes, some subtle, witty twists – a halter dress with sweater sleeves that tied in the front – landed convincingly. Similarly, tailored pants slung low on the hips had a double top, with the appearance of jeans peeking out from underneath. Accessories included a chic flat belt bag; little bags of sheer chiffon, grabbed in the hand; an ostrich feather and leather bag; neoprene slippers, and strappy sandals held on by on a single toe thong, worn with ten denier hosiery. Easy and desirable. Not as easy as it seems. TMS
Theory
Theory has long been about providing a uniform for America's professional set, specifically those with minimal inclination. Today chief creative officer Jeffrey Kalinsky doubled down, announcing to the audience that the clothes we were about to see offered 'an easy system for getting dressed'. Speaking as the models walked, he continued: 'It's always been my mission to create simple, chic, straightforward clothes for this brand. That's it.' Kalinsky, a former neighbour of Theory's current flagship which was the setting of today's show, can be credited as one of the catalysts of the polish that exists in the Meatpacking District today – he opened his self-named luxury designer boutique Jeffrey's across the street in 1999 (later becoming EVP at Nordstrom).
Kalinsky credited the fabric development team, the pattern makers, sewers and designers of Theory's 'Innovation Centre' for their input into the clothes. It was sweltering outside, but even the wools felt light enough to be workable in summer months. There was the charcoal melange stretch pencil skirt worn with a boxy cotton button-down, while structured linen had been cut into a shift dress that stood away from the body. Washed cotton – borrowed from the men's chinos – was cut into a short A-line mini. Silver silk took on the appearance of brushed metal. A fine-gauge knit polo shirt was finished with pearl buttons. A library of pants – wide-leg, cigarette, boy-cut, high-waist, straight, pencil shorts, bermuda shorts – will no doubt be a hit with the customer. TMS
Palomo Spain
Set against the grandeur of the Plaza Hotel's Terrace Room, Alejandro Gómez Palomo invited showgoers to abandon all notions of conventional desire. The collection embraced the duality of human sexuality, reminding those in attendance that we all have two sides. Named 'Cruising in the Rose Garden', the collection felt timely through its presentation of how contradictions can live within oneself, and how the forbidden also incites exploration, rebellion and the experience of freedom against societal norms.
In sartorial form, this meant androgynous, mostly male, models donned floral chiffon slip dresses, romantic lace negligees, and feather-trimmed trousers that evoked romanticism and feminine sensuality. Any sweetness was also undercut by structured corsets, heavy biker leather jackets and flared denim trousers, which often boasted studded back flaps that could be unsnapped in the heat of passion. 'After presenting a Fall/Winter collection that spoke about the freedom of childhood and a naive approach to gender and clothing, it was the most natural process for me to focus on a more sexualized idea of a character that is now grown and aware of its power of attraction,' said Palomo. 'This time, I wanted to reflect on who I am now and allow myself to dive into my most romantic and sexual fantasies while still maintaining my love for storytelling.'
As with Palomo Spain's ethos, there were healthy nods to the brand's Andalusian heritage, such as a rose motif which took shape as surrealistic leather handbags, oversized metal earpieces and sculptural metal chokers that adorned models' necks. These accessories were part of a capsule collection produced in collaboration with fellow Spaniards, Bimba Y Lola. A fresh take on feminine beauty, complete with darker undertones, this dynamic collection went straight to the heart. PRK
Helmut Lang
'When I got this job, I was thinking back to the first luxurious experience I had,' said Peter Do backstage after his debut as creative director of Helmut Lang, amid throngs of fans, family and friends (which included Ocean Vuong – poet, friend and collaborator, who wrote the script that scored the collection). 'Growing up on a farm in Vietnam and going to Philadelphia with my mom owning a car… the luxury to be able to get in the car and have the freedom to go where you want was something that everyone was taking for granted, something that I felt was truly luxurious. I want Helmut Lang to be that vehicle of freedom for people, in the same way I discovered with cars,' he says nostalgically of joyful teenage road trips.
Suit jackets were slashed as if driven over, while sourced vintage seat belts were turned into luminous trims. A crisp shirt was worn backwards, as if in reverse, printed with Vuong's words. Do noted a desire to create a 'system of dressing' – 'every season we evolve it. Not starting from scratch every season but building upon what came before.' 'With the new Helmut Lang, I really just want to dress New York,' he continued. 'And not just Manhattan – Queens, Brooklyn. I want to showcase the versatile, energetic, chaotic way that people live in New York City. I want to introduce the brand to a new generation of people.' TMS
Ralph Lauren
Ralph Lauren transformed a warehouse space in the Brooklyn Navy Yard into an evocative artist's loft to showcase his S/S 2024 womenswear collection. Complete with wooden floorboards, empty gilded frames draped with canvas drop sheets and oversized chandeliers hanging overhead, the romantic and rustic backdrop set the scene for an equally bohemian collection filled with painterly florals, faded denim and an eclectic mix of bold and shimmering colours and textures.
Inspired by the freedom of personal style and the individuality, timeless elegance and vibrant sophistication of the modern woman, the collection was filled with luxurious flourishes. Daring pairings, such as a classic black double-breasted jacket matched with a gold foil halter-neck and sheer trousers embellished with sequins and feathers, and a hand-painted leather vest worn over wafts of madras-print chiffon crafted into a wrap dress, encapsulated the sophisticated eclecticism of the Ralph Lauren label. To close, a leather macramé gown, detailed with abstract woven patterns and tiers of gold fringe, worn by Natalia Vodianova, featured the handiwork of 15 specialised embroiderers, who spent more than 800 hours cutting, weaving, and knotting the leather fringe.
In the words of the legend himself, 'My S/S 2024 women's collection is about a new kind of romance – cool and sophisticated. It's about the freedom of creating a personal style through the artistry of faded denim and painterly florals, the modern sophistication of iconic shapes in black and gold, or the eclectic mix of bold colours, shine and luxurious handcrafted details. These are the stories of the woman I design for whose individuality and artistic spirit are a canvas for her own self-expression.' PRK
Collina Strada
Staged amid the lush vegetation on the rooftop of Brooklyn Grange, a rooftop farming and green roofing enterprise dedicated to fostering more liveable and climate-adapted cities, Collina Strada's Hillary Taymour fully embraced her romantic side this season with a collection filled with diaphanous silhouettes, corsetry and frills galore. This was not delivered without the Collina Strada trademark edge, though. Set to a soundtrack reverberating with the warning call 'The Earth's on fire; why are we here?', models donned wide grins and the label's signature punky mix of daring, highly detailed layers. Seemingly normal plaid trousers were interspersed with sheer lace inserts, a rose pink silk suit featured a dramatic tulle train and cropped, corseted tie-dye tees almost resembled armour with their structured shoulders and shape.
'As we grin and bear the excruciating present, in which the world burns and reproductive, trans, and general human rights are under threat, we summon the strength of radical softness to defend ourselves,' wrote Taymour in the show notes. 'We delve deep within to reconnect to the universal feminine energy, reminding ourselves that there is daring in delicacy, power in the pretty, and grit in the girly. Femme is fab. We call her Mother Earth for a reason.'
The show also featured an ongoing footwear collaboration with Ugg and teed up the launch of Taymour's inaugural book, I Care a Lotta, I Wear Collina Strada, which is published by Rizzoli and will be officially released in October. A celebration of the brand's radically individual and sustainably minded take on style, the tome is filled with brand imagery, runway footage, a closer look at core pieces and collaborations and has been overseen together with the brand's art director Charlie Engman. PRK
Stay tuned for more from New York Fashion Week S/S 2024.
Receive our daily digest of inspiration, escapism and design stories from around the world direct to your inbox
Tilly is a British writer, editor and digital consultant based in New York, covering luxury fashion, jewellery, design, culture, art, travel, wellness and more. An alumna of Central Saint Martins, she is Contributing Editor for Wallpaper* and has interviewed a cross section of design legends including Sir David Adjaye, Samuel Ross, Pamela Shamshiri and Piet Oudolf for the magazine.