Moooi x EveryHuman launch AI-generated personal fragrances at Milan Design Week 2023
Thanks to Moooi x EveryHuman home fragrance, Milan Design Week 2023 visitors can create their own, personalised room scents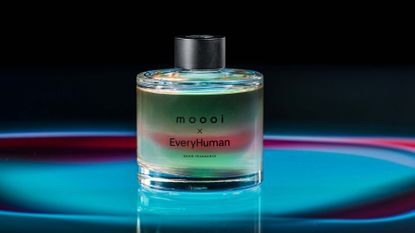 (Image credit: Moooi)
Moooi x EveryHuman – a collaboration between the lifestyle brand and the AI-guided 'scent creation platform' – is among the most interesting wellness and beauty debuts at Milan Design Week 2023, and will be revealed at Moooi's 'A Life Extraordinary' exhibition at Salone dei Tessuti (Via San Gregorio 29, Milan).
EveryHuman is a Netherlands-based company that gives customers the chance to create personalised perfumes via an AI-driven computer program and then produces them with a special 'fragrance printer'.
But what does it mean to create fragrances with AI? For EveryHuman, it is a matter of using customers' responses to questions, such as 'In what setting did you grow up?' and 'What do you do for a living?', to generate a corresponding scent profile that is then used to create a personalised perfume. The brand calls this practice 'algorithmic perfumery' and now, with Moooi, it is using it to generate home fragrance.
'Moooi and EveryHuman share a passion for innovation and technology,' says Moooi CEO Robin Bevers. 'By combining Moooi's design expertise with EveryHuman's unique approach to scent, we now offer a bespoke room fragrance experience that combines physical and digital elements.'
Milan Design Week visitors to the Via San Gregorio space will answer a series of questions, allowing them to create their own personal room fragrance produced on site. Each scent is also ascribed a specific colour way or 'aura' that reflects its profile.
'By harnessing the power of AI and personalised experiences,' continues Bevers. 'We are able to tap into unexplored areas of personalisation and create products that truly reflect our audience's unique tastes and lifestyles. This multisensorial approach, with a technological twist, perfectly aligns with Moooi's vision and our lifestyle collection.'
Mary Cleary is the Beauty & Grooming Editor of Wallpaper*. Having been with the brand since 2017, she became an editor in February 2020 with the launch of the brand's new beauty & grooming channel. Her work seeks to offer a new perspective on beauty, focusing on the pioneering personalities, product designs, and transformative trends within the industry.