Make-up artist Ana Takahashi on creating some of the most innovative looks of the moment
Ana Takahashi, the London-based make-up artist working with KNWLS, Chopova Lowena, and Caroline Polachek, on the process behind her extraordinary creations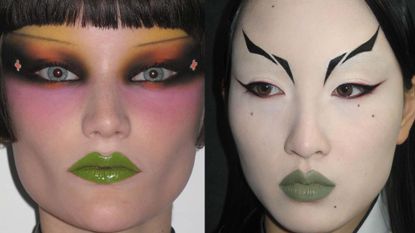 (Image credit: Ana Takahashi)
Wallpaper* Newsletter
Receive our daily digest of inspiration, escapism and design stories from around the world direct to your inbox
Thank you for signing up to Wallpaper. You will receive a verification email shortly.
There was a problem. Please refresh the page and try again.
Scroll through the portfolio of London-based make-up artist Ana Takahashi and you will find looks that recall 1990s rave kids (plucked eyebrows, frosted lips, sparkly shadows), Kabuki performers (masks of coloured foundation, eyeshadows that fan out from lids to brows) and something of the space-kitsch of Mars 2112 aliens (if you're not familiar with this long-gone Times Square tourist trap, look it up now). Takahashi is the choice collaborator of Chopova Lowena, KNWLS, Marc Jacobs' Heaven, Caroline Polachek, and other progenitors of those emerging subcultures – folklore maximalism (Chopova), modern 1990s rave kid (Heaven), swampy futurism (KNWLS) – that are shaping up to define our era's conception of what is 'cool'.
And while Takahashi is tuned into the aesthetics of our time, doing in cosmetics what those other names have done in fashion and music, her greatest creative strength perhaps lies in her distinctive manipulation of colour – in one look, for instance, baby pink, orange, yellow and black eyeshadows are paired with a glossy slime-green lip; in another, a gradient of light blue eyeshadows is accompanied by burgundy cat eyeliner and an ochre lip.
When asked what her favourite beauty trends of the moment are, Takahashi says, 'I've been really into the wet glittery eye trend that I've been seeing a lot on TikTok. It almost replicates the look of a wet lid, or tears, when it's put under the eye. I'm pretty sure this trend is influenced by Japanese and Korean beauty; it's cool to see it become popular in the West.'
Ana Takahashi and the draw of Japan
Japan is a recurring influence for Takahashi, who has already taken two trips there this year alone. 'My mum is Japanese but I always felt the least connected to this part of my ancestry,' she says. 'It's been amazing rediscovering it, and I've realised that it's actually been a huge influence on my creative subconscious. I especially love going to countryside regions like Gunma, where you get a taste for old Japan. You see so many beautiful colours and patterns within architecture, nature, clothes, even trips to the supermarket. It's all so stimulating for anyone that is interested in visual communication and aesthetics.'
Travelling and, in particular, getting off technology are hugely important for Takahashi, especially when she finds herself in a creative slump. 'Getting off every form of technology helps,' she says. 'Focusing on finding photo books and art books in person in shops is a great way to find little treasures that I'd never have known about had I spent that time scrolling on Instagram and TikTok. It's even better if you do this in a different country.'
Make-up challenges and the future
From the outside, though, creative slumps seem to be a rarity for Takahashi who has racked up a dazzling catalogue of projects in the past year alone.
Asked which projects she's most proud of, she responds: 'I'm very proud of the Acne personalised denim campaign I did featuring Lily McMenamy. Lily was in full head-to-toe body paint, with a blue denim texture body and white stitch elements. This project was so challenging as I hadn't done much body painting at that point, and we were shooting on the hottest day of 2022, when it was 40 degrees in London. Body paint in that sort of heat is an absolute nightmare, so I'm shocked we managed to pull it off, whilst creating some really beautiful images. That shoot was sweat and tears and wouldn't have been possible without my wonderful assistants.'
Another notable collaboration is her work with Harley Weir on Weir's self-portrait book for Beauty Papers. 'Harley has a very spontaneous way of working, and I tend to be more structured with my creative approach. I always love working with her on beauty imagery because she encourages me to work in a more improvised way, which can push me to do things I didn't think I could do. For example, she asked me to do make-up on sex dolls and masks, which pushed me to use new techniques and materials. In a way, it was more exciting than working on a human, because you can use materials that you wouldn't be able to use on skin.'
When it comes to future endeavours, Takahashi's dream collaborator is photographer Donna Trope. 'She is someone I've admired for a very long time. Her work has been a great influence on me as there always seems to be a twisted take on beauty within her imagery. I also love her Instagram captions, they're jokes.'
Receive our daily digest of inspiration, escapism and design stories from around the world direct to your inbox
Mary Cleary is the Beauty & Grooming Editor of Wallpaper*. Having been with the brand since 2017, she became an editor in February 2020 with the launch of the brand's new beauty & grooming channel. Her work seeks to offer a new perspective on beauty, focusing on the pioneering personalities, product designs, and transformative trends within the industry.