LA spas and wellness destinations for ultimate relaxation and rejuvenation
Our edit of must-visit LA spas and wellness destinations features havens for high-tech treatments, ancient healing therapies and everything in-between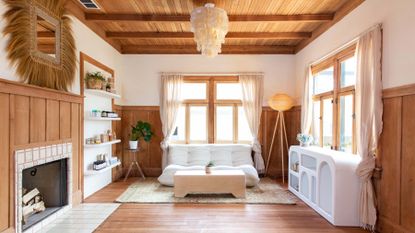 (Image credit: Den Mother)
Arguably America's capital of beauty and wellness, Los Angeles is bursting with all manner of solutions for looking more polished, feeling more energised, and appearing younger, leaner, more sparkling. At our pick of LA spas and wellness destinations, restorative elixirs, potent salves and high-performance balms combine with technology so advanced it could launch a rocket but instead is geared to resurface your skin. Whether you prefer your beauty treatments charcoal-infused and centring, or favour intense and invasive therapies, you're in the right place to be invigorated, nourished, buffed, snatched, polished, plumped and preened.
LA spas and wellness destinations
---
Formula Fig
Formula Fig promises to pack 'experience-led, science-forward skincare' into succinct 30- and 45-minute treatments (available from 8am to 8pm, seven days a week). Its compelling, speedy-yet-effective offering has helped the female-founded Canada-based company to open multiple 'Fig Bars' across Vancouver and Toronto in four short years.
Its new West Hollywood location on North Sycamore (just behind Jeffery Deitch and opposite Just One Eye and Tartine) is the brand's first in the US and will offer its signature technology-driven facial treatments, neuromodulators, and facial filler balancing injections, all delivered by trusted medical professionals, alongside a curated assortment of skincare products. Its distinctive verdant green and pink interior – designed by founders Jessica Walsh and Anita Chan in collaboration with Scott & Scott Architects – draws on old Hollywood-era deco architecture, and design highlights include a 12ft honed green marble island and dramatic perforated metal ceiling.
Formula Fig WeHo, 926 N.Sycamore, Los Angeles, CA, 90038
formulafig.com
Dr Barbara Sturm
If you want to book yourself in for the Rolls-Royce of facial treatments, head to North Almont drive in West Hollywood, where you'll find Dr Barbara Sturm's West Coast polished-concrete-and-white-light outpost, and book in for her Exoso-Metic Growth Factor Facial.
While delivering on all the standard remits of reducing fine lines and improving skin texture, exosomes (or 'messenger cells') found in her Exoso-Metic Face Serum and Eye Cream are potent 'regenerators' and will get to work on babyfying your skin in no time. A spectrum of gentle to serious treatments is on offer, spanning head to toe, including the exclusive Red Light Therapy room (non-invasive rays that will diminish age spots and improve skin elasticity); ear seeding (placing small magnetic beads on the ear lobes for relaxation); facials for teens; lymphatic drainage massage; and personalised scalp treatments.
Dr. Barbara Sturm LA Spa & Boutique, 515 N. Almont Dr, West Hollywood, CA 90069
drsturm.com
Rationale
Luxury Australian beauty brand Rationale is beloved by those Down Under for its all-natural and gentle yet science-first approach to protecting and restoring skin in a climate where sun damage and skin cancer are so prevalent. So it made sense for the brand to open its first US flagship in California, where damage from UVA and UVB radiation is a common concern.
As part of every Rationale facial treatment, clients can have their skin analysed by an on-site expert who will screen their dermis using UV light technology to look six layers deep (far beyond what the naked eye can spot) – even in some cases allowing some abnormalities to be spotted early. From this screening, a detailed personalised skincare routine is built: two to three different products are available for each of the six steps. Every person's regime is fully tailored, so you may be 'prescribed' the serum from Step 1, the mask from Step 2, and the night cream from Step 6, as an example. The results in deep-skin hydration and repair are excellent. Keep an eye out, New Yorkers, for an opening in the city later this year.
8441 Melrose Place, Lower Level Unit 1, Los Angeles, CA 90069
rationale.com
Heimat
Heimat is one of a growing new breed of high-end luxury members' clubs focused on the mind, body and soul. Much more than a gym or spa, it offers personal trainers on tap, innovative beauty treatments such as the Hydrafacial Syndeo (which records and stores your skin data from session to session), and an elevated dining experience that far exceeds an electrolytes drink from a vending machine.
With an emphasis on beauty and recovery as much as working out, guests can enjoy the benefits of CBD-infused beauty products from The Feelist while having a post-spa pedicure. A relaxation room equipped with white leather daybeds can be enjoyed while a pair of Hyperice Normatec Boots work their lymphatic drainage magic. Its staggering 75,000 sq ft marbled, mirrored interior is punctuated with potted ferns and palms and feels industrial yet luxe. There's also a pool and co-working space, so you really never need to leave.
460 N La Brea Ave. Floor #2 Los Angeles, CA
heimat.com
Den Mother
'Ancient Healing, modern living' is the strapline for Den Mother. Relax, restore and reconnect is the mission of this Venice Beach wellness location where a 'multi-modality mix of slow medicine [is] designed to restore your inner environment to its most natural state'. A trio of impressive co-founders opened this spot mid-pandemic and it's fast becoming the go-to for those who prefer an earthier approach to their rebalancing. It is powered by trained master healer Elisa Angelone (MAOM, L.Ac.), entrepreneur Kenny Parmelee, and hospitality and design veteran Heather Tierney (of The Butcher's Daughter and Wanderlust).

Their 'wiser wellness' treatments are derived from ancient healing practices spanning Japanese acupuncture to Indian Ayurveda, Chinese herbology and reflexology, and Nordic bathing. A natural approach extends to the restored 1930s property itself, where California redwood and cedar have been used for the interior, and guests can enjoy the terrazzo bathing tub and cedar sauna, outdoor shower and cold plunge pool, before heading to the serene outdoor garden bursting with healing botanicals. Book the signature rebalancing Den Method treatment, which combines herbal supplements and acupuncture with neuromuscular testing and Japanese Hara diagnosis.
1209 Abbot Kinney Blvd, Los Angeles, CA 90291
denmother.com
Facile
Spare and minimal is the design approach of Facile and it spills over into its beauty ethos too. Studio Life/Style designed the interior, and with its expertise in creating tranquil residential spaces from Laurel Canyon to Santa Monica, there was no doubt its Melrose Place flagship would be a calming, welcoming environment (bespoke wooden cabinetry, polished plaster walls and a soothing colour palette run throughout).
Customised, state-of-the-art facials are the thing here, and, this being LA, red-carpet readiness is high on the list. Facile's pre-event facials with microinfusions (wrinkle relaxers, pore reducers, vitamins and antioxidants) will give you plumper, glowing skin instantly. Try the Diamondglow, which offers a gentle dermabrasion and exfoliation and delivers topical serums, revealing brighter, clearer, fresher skin.
8457 Melrose Place, Los Angeles 90069
facileskin.com
West Hollywood Edition Spa
The West Hollywood Edition is the result of legendary architect John Pawson and hotelier Ian Schrager bringing together a minimalist yet welcoming approach to hotel design. This serenity extends to the extensive spa – designed with washed Siberian larch wood and Venetian plaster – which offers wellness and beauty treatments to both hotel guests and external visitors.
Locally sourced plant-derived products meet tech-forward innovations to create treatments such as the Nano-Infusion Facial and Red Carpet Facial. CBD oil, natural bamboo sticks, and hot stones are used in the 'CBD + Sticks and Stones' massage, while guided meditation is also available for a touchless unwind. A wealth of California-made brands – including Odacité, Osea, Nesko and The Lost Explorer, The Spa – are on offer to take home, too.
The Spa at The West Hollywood EDITION, 9040 Sunset Blvd, West Hollywood, CA 90069
editionhotels.com

Tilly is a British writer, editor and digital consultant based in New York, covering luxury fashion, jewellery, design, culture, art, travel, wellness and more. An alumna of Central Saint Martins, she is Contributing Editor for Wallpaper* and has interviewed a cross section of design legends including Sir David Adjaye, Samuel Ross, Pamela Shamshiri and Piet Oudolf for the magazine.