Inside Gucci ArtLab, the house's vibrant hub for innovation and craft
Gucci's high-tech training school and testing laboratory in Tuscany combines craft and science to shape the future of sustainable design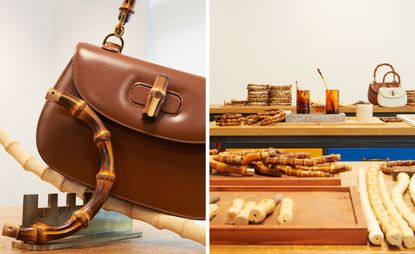 (Image credit: Photography by Paola Dossi)
Wallpaper* Newsletter
Receive our daily digest of inspiration, escapism and design stories from around the world direct to your inbox
Thank you for signing up to Wallpaper. You will receive a verification email shortly.
There was a problem. Please refresh the page and try again.
It's a bright and sunny afternoon in Scandicci, a short 8km drive from the centre of Florence. Filled with FedEx vans, busy roundabouts and industrial warehouses, the bustling suburban hub stands in stark contrast with the Tuscan capital and its cultural landmarks, but for one conspicuous structure: Gucci ArtLab. With its vibrant 10m-high murals, the sprawling 37,000 sq m space is as unmissable as the statue of David – apt, given that a large-scale fashion anatomy is taking place.
Inside, artisan Fabio is adding volume to shoe lasts with putty before smoothing the surface by hand and checking how the light falls from every angle; Maurizio is finishing off a new-season diamanté loafer by joining its upper to its insole with precise hammer action; and Claudio is moving bamboo slowly over the naked flame of a Bunsen burner before bending it to achieve a perfect curved handle.
Inside Florence's Gucci ArtLab
In adjacent laboratories, scientists and state-of-the-art robotics are working in tandem, testing soon-to-be cult bags for elastic-band fatigue and zip reliability. Treadmills are taking a pair of heels for a long-distance walk to calculate their durability, and a holdall is being checked for colour transfer using an automated mannequin that has been bopping on the spot, non-stop, for a couple of days.
An insatiable hive of activity, Gucci ArtLab is home to all of the Italian fashion house's prototyping processes for its shoes and leather goods. Since its opening in 2018, manual and mechanical artisanship have been working hand in hand, with each of Gucci's season-defining pieces engineered and fastidiously tested by a team of 950 specialists before hitting the catwalk.
'When I created ArtLab, my main thought was to give people the opportunity to be creative and express themselves,' says its CEO Massimo Rigucci as he gives us a rare guided tour. 'We're not just creating a technical space, but [one filled with] emotions.' ArtLab is a hub of shared skill sets and experience that speeds up innovation and short-circuits unnecessary waste. 'We have 3D programmes that allow us to simulate an accessory rather than building a physical prototype and throwing the material away [afterwards],' says Antonella Centra, EVP of general counsel, corporate affairs and sustainability. 'But you can see it's not replacing the human touch, it's complementary.'
The brand's ambition with ArtLab doesn't stop there. Operating alongside its specialist research and development areas is the jewel in ArtLab's crown, the École de l'Amour ('School of Love'). Here, aspiring artisans can learn the skills of the trade from experienced maestros. It felt vital to Rigucci that students learn on the factory floor.
'We're trying to recreate the small artisanal workshops that I remember [growing up],' he says. 'I came from a factory where my mother taught us about shoes so that [the craft] would continue. This is something we want to do inside our organisation, too. They need to feel and touch the culture and the people who create it.'
On the day of our visit, Marco, who worked as a Gucci pattern maker for 40 years before becoming a full-time teacher at the school, is taking a group on a six-month placement through assembly steps. His colleague Matilde, an expert seamstress, is showing them how to stitch and sew. 'It really keeps the passion alive, and they teach us so much, too,' says Matilde.
Busting the myth that there is a lack of appetite for younger generations to pursue craftsmanship in Italy, the academy regularly has 200 applicants for ten coveted places on each of its courses. Since its inception, more than 1000 people have passed through its doors, many of whom have stayed on in full-time employment afterwards. Thanks to their intensive training, they hit the ground running.
From interrogating the molecular make-up of materials to sharing specialist skill sets, circularity is the buzzword here. One of the ArtLab team's proudest achievements is that it contributed to the creation of Demetra, a new animal-free material engineered from viscose, wood pulp and bio-based polyurethane, which stands out for its potential to be scaled up and become open source. 'We first went to Silicon Valley, but the scalability and quality [of its bio-leathers] would never have reached our requirements, so Massimo said we should be the Silicon Valley of Italy,' says Centra.
Sustainability is already a big item on Gucci's agenda. The Kering-owned company is nearing the end of an ambitious ten-year plan that has seen the house achieve an overall traceability rate of 97 per cent for its raw materials to date. It's a mindset that permeates not only the purpose of ArtLab and its artisans, but its LEED-certified space, too. Designed to inspire at every turn, its solar-powered white rooms are accented with joyful fuchsia boxes ('I love it, it gives energy,' enthuses Rigucci), while a dramatic red staircase was 'designed as a portal through which our employees are transported into a world of creativity and craftsmanship'. Gucci ArtLab prizes innovation alongside preservation, and computing alongside craftspeople. 'We're creating a dream for the world, not just products,' says Rigucci.
A version of this article features in the September 2023 Style Issue of Wallpaper*, on sale now available in print, on the Wallpaper* app on Apple iOS, and to subscribers of Apple News +. Subscribe to Wallpaper* today
Receive our daily digest of inspiration, escapism and design stories from around the world direct to your inbox
Scarlett Conlon a freelance journalist and consultant specialising in fashion, design and lifestyle. Before relocating to Italy, she held roles as deputy fashion editor at The Guardian and Observer and news editor at British Vogue in London. She is currently a regular contributor Wallpaper* Magazine among other prominent international fashion and design titles.
With contributions from