Golden Goose's 'Haus of Dreamers' project begins with an immersive journey through Venice
Venice-based footwear label Golden Goose launched its 'Haus of Dreamers' platform with performances and installations by international creatives across the floating city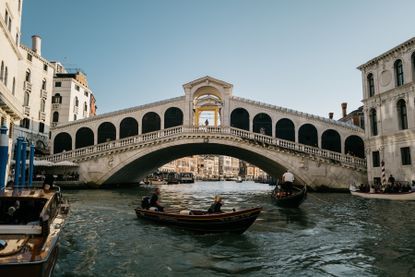 (Image credit: Photography by Lucas Possiede, courtesy of Golden Goose)
'A community of dreamers' is how Italian footwear brand Golden Goose evocatively describes its 'Haus of Dreamers' project, an expansive, genre-spanning project that launched this week in Venice.
Coinciding with the 18th Architecture Biennale currently taking place across the floating city, 'Haus of Dreamers' was inaugurated with its first large-scale event – an invitation to five international creatives to interpret Venetian icons in their own distinct style.
These included Italian architect Fabio Novembre, American model and indigenous activist Quannah Chasinghorse, Los Angeles tattooist Dr Woo, South Korean singer and musician Sunmi, and British actress Suki Waterhouse, who each interpreted the brief in a series of live performances and immersive installations among Venetian landmarks.
Golden Goose 'Haus of Dreamers' in Venice
Beginning in the Venice Pescheria fish market, Novembre created an illusory tunnel of decreasing portals through which attendees walked towards the Grand Canal and onto gondolas; next, Chasinghorse recited an original poem that nodded to the city's history as a diverse cultural meeting and trade point from a gilded frame on the famed Rialto Bridge.
Dr Woo and Waterhouse's performances both took place at The Venice Venice Hotel, the former draping the space's interior with textiles and porcelain 'to evoke the skin and bone of the city', the latter collating photographs of the city that were then added to with images taken of the various attendees ('artistic keepsakes of an unforgettable night'). Finally, at a dinner – which also took place at the hotel – Sunmi performed one of her songs alongside a traditional Venetian orchestra, surrounded by hundreds of candles.
'Haus is coming from the need of people to become culture and not only to read about or buy culture,' Silvio Campara, Golden Goose's CEO, tells Wallpaper*. 'Culture is not about artworks or history, it's about exchanging points of view.'
'Haus of Dreamers' – which Golden Goose describes as 'a global cultural platform to unleash creativity, a series of events and collaborations' – is ongoing, and will call the industrial port of Venice, Marghera, home (the brand itself was founded in the city in 2013). There, a dedicated space will comprise an academy, archive, library, auditorium and exhibition space with a focus on 'craft, culture and art'.
That said, the Haus project will also live digitally. 'It is much more than an immersive physical space,' continues Campara. 'We've designed the building of our dreams to be a permanent home for our community of dreamers, celebrating craftsmanship and arts. People will be able to experience what Haus is, starting from Marghera [then going to] different locations around the world with unique events, immersive pop-up experiences, and many other creative activations.'
The next stop? Fashion week in Paris in October 2023, where the 'Haus of Dreamers' journey will continue.
Jack Moss is the Fashion Features Editor at Wallpaper*. Having previously held roles at 10, 10 Men and AnOther magazines, he joined the team in 2022. His work has a particular focus on the moments where fashion and style intersect with other creative disciplines – among them art and design – as well as championing a new generation of international talent and profiling the industry's leading figures and brands.