Baccarat Rouge 540: the story behind the cult perfume with its creator, Francis Kurkdjian
Baccarat Rouge 540 has become a global sensation. Its creator Francis Kurkdjian reveals the secret to its success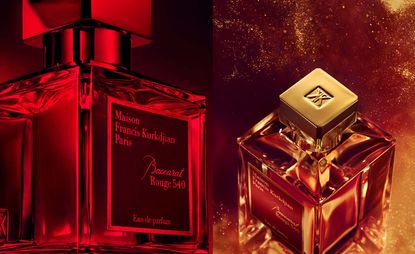 (Image credit: Maison Francis Kurkdjian)
Perfumer Francis Kurkdjian first launched Baccarat Rouge 540 in 2014 as a one-off, 250-bottle release to celebrate the 250th anniversary of historical crystal house Baccarat.
But Baccarat Rouge was never destined for a transitory existence. The original run sold out immediately and, when it was decided that it would be re-released and added to the permanent collection, a sixth-month supply of bottles sold out within one month.
Now, the fragrance is arguably the most popular in the world thanks in large part to a newfound Tik Tok virality and celebrities such as Rihanna endorsing it. But what is it about Baccarat Rouge 540 that makes it so desirable?
Baccarat Rouge 540: 'powerful without being heavy'
'When I was asked to create that perfume it was meant to encapsulate Baccarat,' says Kurkdjian on a call from his office in Paris. 'The symbol of Baccarat is the red crystal, which is made out of gold and crystal and it is about the alchemy of the gold infusion which becomes red at 546 degrees. The resulting crystal is very heavy but has more clarity, more density than glass. So I wanted to translate that idea of clarity, of density.
'It's powerful without being heavy,' continues Kurkdjian. 'It's sweet, there is a yumminess, but it's not sickening. At the opposite end of the spectrum, you have fragrances like Angel by Thierry Mugler, which is very dark, very heavy and might upset [someone] next to you because it's so intrusive. I use Angel as an example but I would say 99 per cent of perfumes have this effect and it gives you "nose fatigue".
'But with Baccarat Rouge, it is the opposite. I am not working with ingredients like vanillas and musks, because they are very thick and heavy. I'm only working with very clear materials and that's why [it appeals so much to everybody].'
It is, ultimately, a fragrance of saffron, amberwood and cedar that is a little bit woody, a little bit sweet, a little bit spicy, a little bit floral and totally distinct.
To celebrate the new era of Baccarat Rouge 540, the brand has just debuted a new campaign by director Patrick Clair (best known for the opening credits of The Crown), which visually captures the way the golden fragrance melds to the skin of the person who is lucky enough to wear it.
Available from franciskurkdjian.com; selfridges.com
Mary Cleary is the Beauty & Grooming Editor of Wallpaper*. Having been with the brand since 2017, she became an editor in February 2020 with the launch of the brand's new beauty & grooming channel. Her work seeks to offer a new perspective on beauty, focusing on the pioneering personalities, product designs, and transformative trends within the industry.